Feed up with constantly having to buy new earbuds, because the old ones keep breaking?
Here is a solution.
The 7 top "invincible" in-ear monitors/earbuds that will last you longer.
All of the earbuds below are made out of quality materials, like durable plastics and aluminum, don't havae any major weak points and are simply better suited for the "hard human abuse".
No matter how much money you want to spend for new IEMs, if you get any from the table below, they'll have top notch durability.
Related lists: Best Bass Earbuds For Budget.
Anyway, below is the table of contents for better orientation.
7 Most Durable Earbuds Comparison
What Makes Headphones Durable?
Quality materials: Strong, durable plastic is lightweight and offers great protection from physical damage. Even better is metal casing, like aluminum which offers even more advantages. The thickness of rubber around the wires is also very important, not all rubber is made the same.
No weak points: A lot of headphones have some kind of weak points, whether it's badly made I connector or weird, crack-able shape of main earbud design. These weak points are always revealed after the first few weeks of use so it's impossible to know them beforehand.
Design of hinges: If any hinges are present, it is imperative they're made for long term use and don't crumble after a few weeks.
Cable coating: Some cables are reinforced with Kevlar and some have extra layers of rubber, but since cables are one of the usual weak points, cable strength plays an important role.
Moisture resistance: For athletes and fitness freaks sweat-proof headphones are a must. For everyday use, you'd like the headphones to withstand a bit of rain that will surely come in its way eventually.
Click here to find out top headphones for the gym.
Good warranty helps: Customer support play a big role in deciding to buy certain headphones. If you know that you have access to good customer support that can quickly replace your broken earbuds, then it's much easier to make the purchase. Especially if the product has a lifetime warranty like Koss's.
Maybe you want to Check: Best Isolation Headphones.
Most Durable Earbuds Reviewed
The well-known Shure SE215 earbuds are a powerhouse in terms of what you get for the money.
You're not only getting high quality, robust designed earbuds…
…but also superior noise isolation and Hi-Fi sound quality.
Durability
These will last longer than any other earbuds simply because they are designed to do so.
Their plastic, but robust casing is made to withstand the heavy stage use and additionally providing complete sweat protection as sweating on stage is something normal.
The memory wires are detachable so you can easily replace them if they get damaged, just keep in mind Shure replacement parts are quite pricey if you buy them from their original site.
Detachable wires are a great option, usually not available with other earbuds, not to mention this simple feature will save your wires from entanglement and tearing. Shure SE215 have an L shaped plug-in which is another plus for durability.
They are superbly built and even with improper use (sitting on them, tugging, dropping them in water…), you should get at least a few years out of them.
Comfort
Because of the memory wires, keeping them in ears is easy even doing sports, you just have to get used to putting them in and getting proper fit. This might take some time, but eventually you'll figure it out.
In the beginning you might have some concerns regarding comfort as they do feel awkward the first time you put them in. This problem should go away once you play with it a little and get used to the specific Shure design.
In the end, these in-ear headphones are as comfortable as any other IEMs.
Features
They don't have any microphone for taking calls, but have amazing noise isolation, up to 37 dB, that is one of the best of all in-ear headphones on the market right now. Check other noise isolating headphones here.
Sound
The sound quality is amazing at this price range. You get a rather flat sound with no ranges lacking or being too emphasized. Except the real audiophiles will hear a slight emphasis on bass, but this isn't bad at all.
The bass makes music more fun to listen to, without being too fatiguing. Note, these aren't suited for bassheads, but for people with normal tastes in music, without any preferences in sound ranges.
Vocals are also very clean and crisp making the sound perfect for all types of music, from pop, rock to classical.
Check: Best Classic Earbuds With Mic
Sound quality can compare to earbuds 2x times the price and Shure SE215 are a great entry audiophile model.
Overall, if you want in-ear headphones with great sound isolation, comfort, top-notch durability and superb sound quality with nice bass, you should definitely pick Shure SE215.
PROS
Super durable, sweatproof, suitable for sports or stage use.
Comfortable after getting a good fit
Awesome sound isolation
Great value for money
Crisp, balanced sound with a touch of bass emphasis
CONS
Awkward design needs some getting used to
---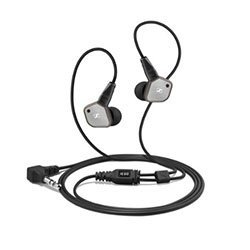 Sennheiser IE80 in-ear monitors are one of the best models Sennheiser has to offer.
The impeccable built quality, good ergonomics and audiophile sound quality make these a great choice for even the most demanding users.
Durability
Built quality is top notch, even better than with IE8 which is an older version.
The housing is made out of brushed metal and quality plastic which gives them that premium look.
The cables are detachable with thick rubber strain relief. The rubber is more flexible and higher quality than with your average IEMs.
The cool thing about detachable cables is when they break, which happens often with IEMs, you can simply replace them and you have a perfectly functioning in-ear monitors again.
The 3.5mm plug-in is L shaped which gives it some additional resistance to stress.
Additionally you get a 2 year warranty, if they die out you simply get them replaced by a new model.
These IEMs can compare to the best when it comes to build quality, use them with confidence.
Comfort
Even though the housing is quite large and people with small ears will have to be satisfied with a rather shallow fit, the ergonomics and comfort of wearing Sennheiser IE80 is very good.
These are meant to be worn over-the-ear, but can be worn the regular, under-the-ear as well.
The fit is very stable so you can use them for sports and working out easily. The only thing you can't do is wear them comfortably when lying down from the side on a pillow. The housing is just a bit too big.
For most people, the ergonomics are perfect and you'll soon forget you're wearing them.
Also interested in top Bluetooth noise cancelling headphones?
Features
The special feature of the Sennheiser IE80 is their bass tuning function. By turning small screw on the side of each ear bud you can tune the sound to your liking.
We didn't really see much use for it since you can equalize your music more easily with software, but it works and it's probably useful for those who use music devices without an equalizer.
You also get a nice selection of ear tips. Altogether 10 pairs of ear tips will spoil you for choice. 8 of those are silicone tips with single and double flange design in 3 sizes, plus 2 pairs with a slightly different double-flange design.
The foam ear tips only come in 2 sizes as well, but offer great comfort and noise isolation.
Other accessories included are the shirt clip, flexible ear hooks for sports use and a classic Sennheiser plastic case for carrying your IEMs and ear tips with you.
Sound
Sound quality will make even audiophiles happy with a balanced soundstage producing detailed and rich sound in all ranges.
There is almost no sibilance and the highs remain crisply clear even with high pitch music.
The bass isn't basshead level, but it's more than enough to give any music genre a dynamic and powerful feel.
The mids don't disappoint either with rich details and clarity fulfilling the role of mediating between the highs and lows with a gentleness.
One of the better features of IE80 is their big soundstage. It's comparatively bigger than with most IEMs at this price point and can even compare to IEMs double the price.
You'll hear the instrument separation and where the sounds are coming from much better than with alternatives.
Microphonics is almost nonexistent, you'd have to move around with cables flapping very hard to hear any distortion in the sound.
Noise isolation is good, but as with all IEMs, depends on the ear tips you're using. Double flange works best with foam ones second.
Value for money in sound is very high here because you'd have to spend a couple hundreds more to get comparable soundstage and clarity from some other model.
Overall the sound signature is balanced and makes for an amazing music experience anywhere you go.
For audiophile-grade in-ear monitors with top notch build quality and good comfort pick Sennheiser IE80.
PROS
Impeccable build quality (metal housing, detachable cables, strain relief)
Good ergonomics and comfort
Very nice selection of ear tips (silicone and foam + ear hooks)
Audiophile-grade sound quality, balanced signature, great soundstage
Even at the price still great value for money
CONS
Designed for over-the-ear fit (can be worn normally too, but less stable)
---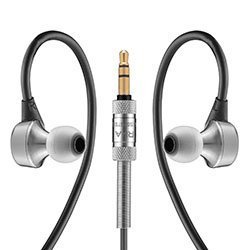 RHA MA750 are one of the most popular in-ear monitors on the market right now and for a good reason.
For the price of slightly over $100 you get IEMs that can compare to models 5 times the price in every regard.
Keep in mind there are 2 models available, the MA750 is the regular model and the MA750i has an in-line microphone and remote for making calls and controlling music. It also costs a bit more.
Durability
When it comes to durability RHA MA750 is a top notch product. The housing is made out of aluminium which doesn't rust when in contact with water. In fact, all the hardware is made out of metal which is a very nice touch and makes these earbuds look like they're a few years ahead of time.
The tangle-free cables are long and thick with rubber coating. The 3.5mm plug-in is I shape and has a long strain relief. The cables aren't detachable like with Shure SE215, but have strong stress relief on all sides.
In any case if the earbuds somehow fail, you get a 3 year warranty and can get your earbuds replaced by new ones. Most earbuds don't have such long warranty.
Overall, these are one of the best built earbuds on the market right now, plus they sound good.
Comfort
While the metal housing makes them a bit heavier it doesn't majorly affect comfort. Actually, they're quite comfortable.
The design is small and ergonomic enough to fit well without rubbing you the wrong way. Very soon you forget that you're wearing metal earbuds at all.
Keep in mind these require the over-the-ear fit due to their design, don't try to wear them any other way.
Features
Inside the package you get quite a few accessories.
You get 9 different pairs of ear tips, 6 single-flange and 2 double-flange silicone tips, but also 2 pairs of foam ear tips. This gives you a lot of choice and you're sure to find a proper fit for yourself.
Additionally, you get a shirt clip and a nice leather carrying case with a zipper to pack your earbuds in.
The MA750i version has an in-line remote with a microphone. Compatible with iPhone and Android phones works as you'd expected. The microphone is good enough for making calls on the go, just don't expect studio quality sound.
Sound
Sound quality is another major strength. Their sound signature is slightly on the bassy side, but not overly so.
They're not basshead IEMs, but rather "balanced" with lively, deep bass that goes very deep. They're better at sub-bass and less at mid-bass.
The middle range is detailed and full-bodied which is great for the type of earbuds these are.
The highs don't disappoint either with their clarity and precision even though the high ranges are slightly recessed. Sibilance doesn't seem to be a major problem with most songs, especially if you equalize, though sometimes does suffer from harshness.
Generally, the signature is slightly warm, but not too much. There are very easy and enjoyable to listen to.
Soundstage and instrument separation are better than with similarly priced alternatives. You can clearly hear and imagine the space the sound is coming from.
Noise isolation is also very good, especially with foam ear tips that you get in the package, those tend to provide the best passive noise isolation.
Microphonics are only a small problem, as long as you're not running with them the cables stay put and don't distort the sound.
In the end, you'll have a hard time finding a better value for money IEMs that are built as well and sound the same as MA750/MA750i.
If you're looking for tank-like built earbuds with good comfort and rather balanced sound quality that can compare to models that cost $400+, then pick RHA MA750.
PROS
Tank-like build quality (metal housing, thick cables, strong stress relief)
Good comfort with small ergonomic design
MA750i with in-line mic and remote
Great sound quality with slight emphasis on bass
Great value for money, could charge twice the price
CONS
Mandatory over-the-ear fit, though not necessarily a bad thing
---
The JVCs take on dual-driver IEMs is probably one of the best on the market right now.
Don't be scared by their unconventional design, these earbuds can compare to the best of them.
Durability
The housing is made out of quality, sturdy plastics which can take a lot of punishment. Maybe they're not as strong as metal earbuds, but pretty close.
Together with rubber coated wires, a bulky L plug and prominent strain reliefs you can take these earbuds anywhere you go without worrying.
The wires are Y design, meaning both sides are equally long.
The only thing missing is water protection, though a bit of rain won't hurt them.
Overall, the build quality is top notch as you'd expect from JVC and even with regular use these should serve you a long time.
Comfort
The earbuds are a bit different looking because they have 2 drivers inside the housing. Fortunately, this doesn't make them uncomfortable.
While the design doesn't look very comfy, they actually fit just as well as any other higher-end IEMs out there. They're light because of the plastic housing and this helps with comfort.
The earbuds are small enough to fit in all ears, the edges are nice and smooth and the angled design puts very little pressure on your ears.
Features
In the package together with JVC HA-FXT90 you get a shirt clip, cable keeper, 3 sized of regular silicone ear tips and a nice clam carrying case.
There is no in-line microphone or remote so if you want to make calls with your earbuds you'd have to pick some other model.
The only bad thing is that they come from Japan and include only Japanese manual and if you don't speak Japanese this might be a small problem. Nonetheless, it's very rare that you'd read a manual anyways.
Sound
Sound quality is equally great, a nice balance of all ranges with a slight emphasis on mids, but with a strong and controlled bass.
Check best bass IEMs here.
The treble is very clear, lively and precise though it may need some polishing by burning them in to get rid of some sibilance. Even after burn in some sibilance remains, but not to the point of making it bothersome.
Sound isolation is about average for IEMs, it greatly depends on the ear tips you use and doesn't have much to do with the earbuds themselves. This means isolation is better than with most headphones.
Microphonics is not a problem, the cables make almost no sound when cables touch your clothes or flap around.
Soundstage is very good, the dual driver design shines here. The separation of instruments is much better than with most earbuds at the same price point.
You can enjoy your favorite music with a new feel to it where the music really comes alive and you hear new things you've not heard before.
The sound will satisfy audiophiles and more casual listeners because all ranges are reproduced very well without distortion. They can easily compare to earbuds 2 or 3 times the price which makes them great value for money.
In the end, JVC HA-FXT90 are one of the best dual-driver IEMs right now, with great sound quality, nice accessories and durability to last you for years all for around $100.
PROS
Very well built, great durability
Comfortable dual-driver design
Great, balanced sound quality
Amazing value for money
CONS
---
For best bang for your buck Brainwavz M2 deliver more than the alternatives.
For the price of well under $100, you're getting a pair of in-ear monitors that are built to last and also sound great.
This is a value for money model that won't disappoint you.
Durability
Aluminium housing is light yet tough. The strain relief is prominent and does the job well.
The cables are quite thick, but still flexible enough not to be annoying.
The 3.5mm plugin is L shaped and protected by thick plastics. They aren't sweat or water proof, but a bit of rain and sweat don't hurt them.
Build quality is solid and you can expect these IEMs to serve you well for a long time.
In any case, if your earbuds die or break in the first year, you get them replaced because of a 1 year warranty by the manufacturer.
Comfort
Comfort is good enough for long listening without discomfort as long as you find the right fit for your ears. In the beginning, you need to find the right fit because the cables are quite sturdy and may make the fit unstable.
The earbuds are light and small enough to fit in most ears just don't try to sleep with on the side since they bulge out a bit too much.
They aren't the most heavenly comfortable earbuds ever made, but still do better than average.
Features
In the package you get regular silicone, single-flange ear tips of 3 different sizes, plus one pair of premium Comply foam tips for better sound isolation.
Additionally, you get a shirt clip and a nice hard, clam carrying case to put everything in.
The Brainwavz M2 don't have any microphone or in-line remote.
The only small problem is the left and right earbud markings which are a bit harder to see, especially in a darker environment.
Sound
The most surprising thing about Brainwavz M2 is their sound quality which can easily compare to IEMs in $100 price bracket.
The sound signature is slightly bassy, but not too much to overpower all other ranges. They aren't exactly a basshead model, but still create a fun, dynamic sound that caters to the popular bass emphasized music of today.
The mids are very clear and rich which is impressive for this price. The highs are good too, not too extended or harsh, but enough to compliment other ranges. Sibilance is therefore nonexistent on most tracks.
Soundstage is about average which is one area where the M2s can't compare to higher end earbuds.
Microphonics isn't a major problem, it is present with fast movement, but with using a shirt clip you can get rid of it completely.
Sound isolation is about average for in-ear monitors which means it's pretty good, just don't expect top notch attenuation like you'd do from a higher end model.
Overall, the sound is a very nice surprise for such an affordable price and offers plenty of fun for an audiophile or a more casual user.
To maximize your money, Brainwavz M2 offer the best combination of durability, comfort and sound quality for an affordable price.
PROS
Great build quality (aluminium housing, thick cables)
Good comfort
Affordable price, amazing value for money
Great sound quality for the price, slightly bassy
CONS
Average soundstage/sound isolation (acceptable for the price)
Left and right earbud markings harder to see
---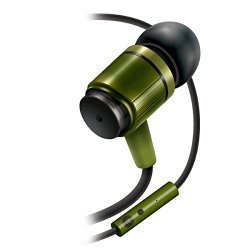 For the most robust build quality for little money, check out the AudiOHM RNF.

In fact, they are so durable it's impacting the user experience.
Durability
For around $20 you're getting premium build quality, like aluminum casing and 3mm thick cables which are the thicker we've seen so far.
The cables are supposedly so strong they can hold 10lbs of weight, but don't try that with yours.
With L shaped plug and Y splitter, both additionally protected by silicone and coming together with a protective bag, these earbuds are built for an apocalypse.
These have "ultra-durable" in their name and that's quite right.
In case you do break them, there is a limited lifetime warranty by Gogroove which guarantees the earbuds long life, or you get a replacement model.
Comfort
There is a slight problem having extra durable earbuds. The reason being, they're heavy.
When you wear them in your ears, you're going to feel the weight pulling down. Even the wires have their own weight and you'll have a hard time forgetting you're wearing them.
Then again, if you don't mind wearing heavier earbuds, knowing they are made for heavy abuse, then these are a good choice. In case you want to use them for running, pick some other models as these will likely fall out. Check great running headphones here.
Features
There are only 2 color choices, either army green or the model called "Rasta" which is a combination of red ear tips, yellow rings and green casings with black cables. This color combination really stands out.
The on-cord microphone works nicely, but isn't anything special.
Sound
The sound is probably where these in-ear headphones are most lacking. The sound is quite bass heavy, even boomy and overpowers mids and highs.Vocals are above average, just nothing special compared to more expensive earbuds.
For the price, overall sound quality is very good, but don't expect them to be better than most $50+ earbuds.
If you're looking for cheap, super-durability above everything else, than AudioOHM RNF are a great choice that are going to last for years.
PROS
Ultra-durable with aluminum casing, 3mm rubber cables, silicone L plug & Y splitter
Very cheap under $30
Good sound quality for the price
CONS
Heavy design that doesn't offer the best comfort
Muddy, bass-heavy sound that can't compare to better IEMs
---
For those of you on a budget, ActionPie VJJB-V1S is a great choice of everday IEMs with great build quality.
For the price of under $30 you really can't expect much from any earbuds, but with this model you get a lot of value, they could be priced at $50 easily.
Durability
Even though they are very cheap the build quality is very good. The housing is metal with beefy strain reliefs and flexible, rubber wires.
The 3.5mm plug is I shape which isn't the best but the strain relief seems big enough to avoid early wire damage.
The earbuds aren't sweat or water resistant.
Overall, for the price you're paying and the earbuds you're getting, build quality is very good. It's not as good as with Shure SE215 of course and probably even AudiOHM RNF will last you longer, but the first cost a lot more money and the second don't sound nearly as good.
ActionPie VJJB-V1S are still built much better than regular earbuds, as long as you don't abuse them too much they should last you for years.
Comfort
The dual-driver design doesn't inspire confidence when it comes to comfort, but in fact, the fit is quite good.
You can wear them under-ear or over-the-ear way because of the angled design.
The housing is still small and light enough to fit most people's ears and with a nice selection of ear tips, you are sure to find a comfortable fit.
Some people even use them for sports without any issues.
Do you play games? See what are the best wireless gaming headphones.
Features
In the package you get a very nice selection of ear tips, 6 different pairs, additionally you can carry them around in a clam carrying case or carrying pouch. You get 3 sizes of regular silicone tips and then a variation of silicone-foam tips though they're not the same as the famous Comply type.
The IEMs work with both, iPhone and Android phones, just plug in and play. The in-line remote/microphone has one button for accepting calls or playing/pausing music.
The microphone works fine for making calls on the go, it's not producing the clearest sound, but good enough for using it.
There are no marks on which ear bud is left or right fitting, so you have to figure it out by looking at slightly different design of each. The left ear bud has a small dot on strain relief.
Sound
Sound quality is impressive for the price as well.
The overall balanced sound signature can compare to earbuds many times the price.
The bass isn't heavy, but still produces a decent amount of lows to make popular music enjoyable.
The mid and high ranges are well presented without distortion or sibilance. Generally, they don't require equalizing as they naturally produce a balanced sound.
As long as you're not a basshead and want head moving lows, you'll enjoy the sound of these.
There is a bit of microphonics present, but it's not too bothersome as long as you're listening loudly enough and not moving. Sound isolation is average as well and mainly depends on the size of the ear tips you're using.
Soundstage is about average for budget earbuds, nothing special even though they have a dual-driver design.
Overall, you can't ask for more, ActionPie VJJB-V1S offers great sound quality and durability, comfort and everyday use features all for under $30.
PROS
Great sound for the price
Good durability with metal housing
Compatible with iPhone & Android
Cheap price
Great value for money
CONS
Hard to distinguish left earbud from the right one
Do you play games?
See top models of gaming headsets. or For most durable headphones click here.
---
What are Your Favorite Durable Earbuds/Headphones?
Why do you think so?
Please share your opinion and tell us your story of other extra-durable headphones out there.
We'd love to hear it.
For future updates subscribe or like us on Facebook.
Maybe you want to check Best Earbuds that don't fall out for running.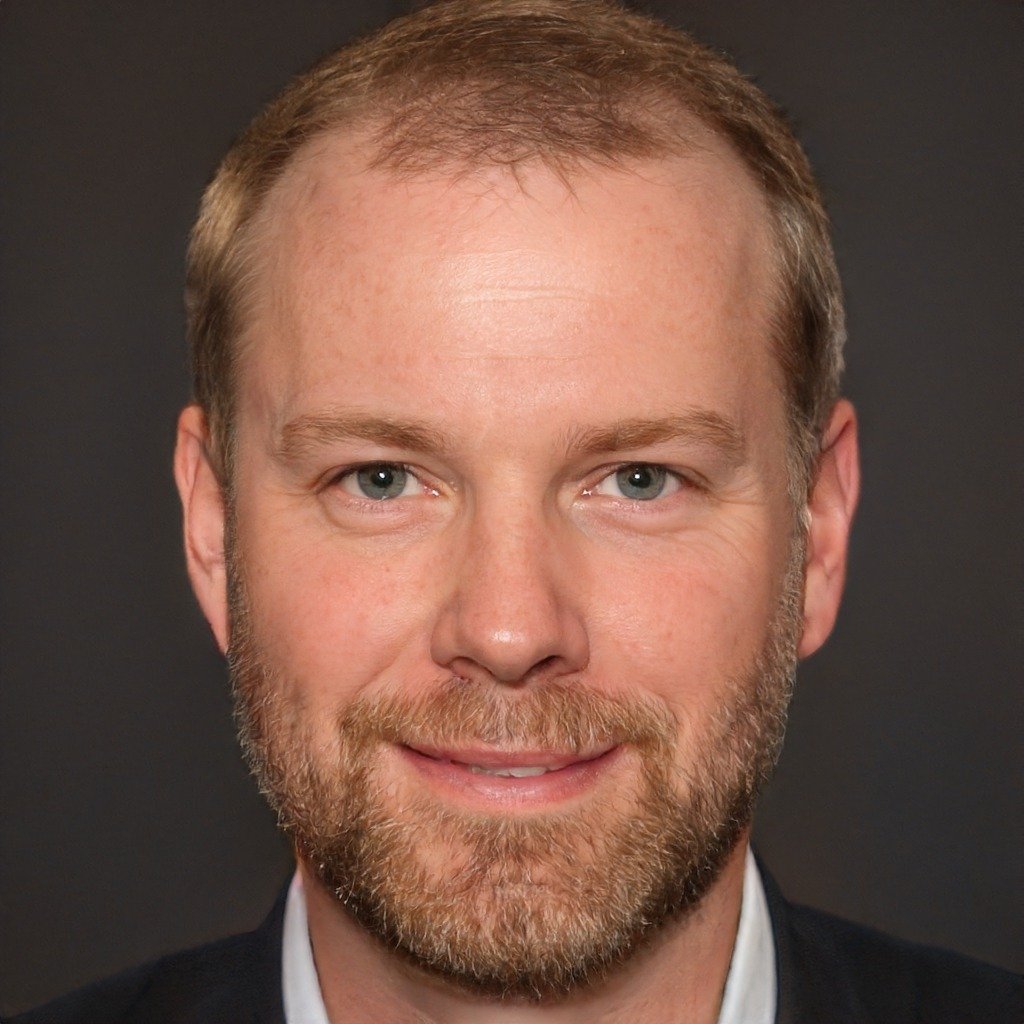 Hey there mobile audio lovers! My name is Darlene R, founder and chief editor at headphonesfans.com. Ask any mobile audio fanatic, installer, or company rep what makes a good car speaker, sub or amp, or, better yet, why he or she prefers a certain brand over another, and be prepared to endure a litany of opinions, viewpoints, and passion-fueled perspectives. To be honest, mobile audio shopping can be a daunting task without a guide, so I've assembled what I feel are the best products to consider to make things easier for you. Welcome headphonesfans.com!