Do you want the best punchy bass, small earbuds can produce?
Wondering what are the Best Bass Earbuds For Budget?
Keep reading and you'll find out the top bass earbud models you can get right now.
But be careful…
… the #1 pick is so good it can be dangerous to your health…
… because you won't stop listening to them.
Scroll down to find out which model it is.
For best over-ear bass headphones click here.
What to Look for in Top BassheadEarbuds?
Apart from bass there are also other factors you should look at. How comfortable they are, how durable they are and how much money you have to fork over (best earbuds for the money here).
Here are some pointers to remember:
Sound Quality: Some of these earbuds have amazing acoustics with technology that is very sophisticated. Apart from playing deep, punchy bass, you want to hear other ranges as well. Music isn't only bass.
Maybe you want to check:Best Budget Audiophile Headphones.
Sound isolation: Because sound isolation is so important for experiencing full and rich sound, many of these in-ear monitors offer great passive protection from outside noise. The quality of the fit is crucial for experiencing deep bass with any IEM (in-ear monitor).
Price: Some of the brands have produced earbuds especially for bassheads with boosted bass. It seems that manufacturers have found a new niche where customers are willing to pay for bass emphasized headphones.
Durability: Not all headphones are made equal. Some are well built from sturdy materials that last for years and some aren't. Make sure you know what to expect from the model you're getting.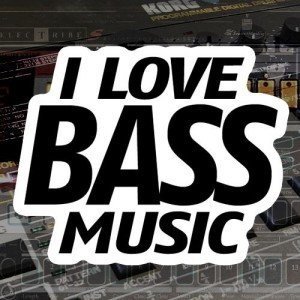 While "precision enhanced bass" or "extra bass" sounds nice, earbuds suffer one major flaw for producing good bass.
Their small size.
The sound is greatly limited by physics and small earbuds just aren't known for generating head dizzying bass. To get great bass out of IEMs you need to pick the right models.
But don't be discouraged. Small doesn't mean bad in every case. The models picked here excel in either their deep and punchy or clean and precise bass that will make you smile.
Read the reviews of top models to get more detailed info. Don't forget to make sure you pick the one that best suits your needs even if it's not the first recommendation.
All models can be used by phones, tablets, MP3 players and any other device with a headphones output.
Deep bass comes extra handy in the gym, which is one of many possible ways of using these. For more gym options see best wireless headphones for working out.
To get the best bass out of any IEMs (in-ear monitors), you need to have an airtight fit.
Without a proper fit, you won't get strong bass no matter how big the earbud drivers are. Therefore it's absolutely crucial to get a good fit.
It would be pretty futile to try and explain how to achieve an optimal fit with words. The best thing we can say is just try out different ear tips and positions. You will notice when the bass comes alive.
Before you judge any earbuds and their lack of bass, make sure to thoroughly test different positions and ear tips. Sometimes changing ear tips completely changes the sound. Test them all.
7 Top Bass Earbuds Reviewed
Best Audiophile Bass Earbuds!
The three points any kind of music-listening athlete will certainly seek in a pair of headphones are convenience, a safe fit and also a long lasting battery life.
With the boom in wireless modern technology in the past couple of years, you can include firmly fitting ear hooks and not so much as a tendril of cord to that checklist.
The Defeats Powerbeats Pros have all the components, Beats having upgraded its existing, sports-focused Powerbeats into a set of truly cordless earphones for runners as well as gym-goers.
The previous version's cord, which fell from the earbuds and also twisted around the rear of the neck, has entirely disappeared.
In regards to their discussion, the Powerbeats Pros are unmistakably on-message with parent firm Apple. They come in a swish, black charging situation that's a satisfaction to open and also shut. It's strong, smooth and, thanks to the magnetic catch, it won't unintentionally open as well as let your earbuds splash out.
As we're currently significantly accustomed to, the instance functions as a battery charger and also the earphones themselves slot magnetically right into their electrical calls. When full, the Powerbeats Pros manage approximately 9 hours before needing an additional fee– enough to last with Iron Man training. The box itself stores practically 2 further rounds of charge, providing you a possible 1 day before you need to connect in the consisted of USB-A-to-Lightning wire and also go back to an exterior source of power.
The Powerbeats Pros' instance is a lot larger than that of the pocket-sized Apple AirPods Pro as well as is as well beefy to fit pleasantly right into your denims or your coat. However, as the Powerbeats Pros are made mostly for use during exercise, you'll most likely place that case in your sports bag anyway.
Comfort
The Powerbeat Pros are works of secure-fit, rubber-clad magnificence offered in a choice of black, navy, cream color as well as moss (eco-friendly). They sit great and limited sideways of your head. The adjustable, bendable ear hooks provide all the give and also hold you require as well as it makes them a desire to wear.
Throughout our exercises, they don't relocate from their snug-fitting setting. Thanks to their sweat as well as waterproof layout, they're as comfortable from our initial stride to our last; never warm, never ever slipping. They include four various sized ear tips, but the pre-fitted pair fits us best.
Build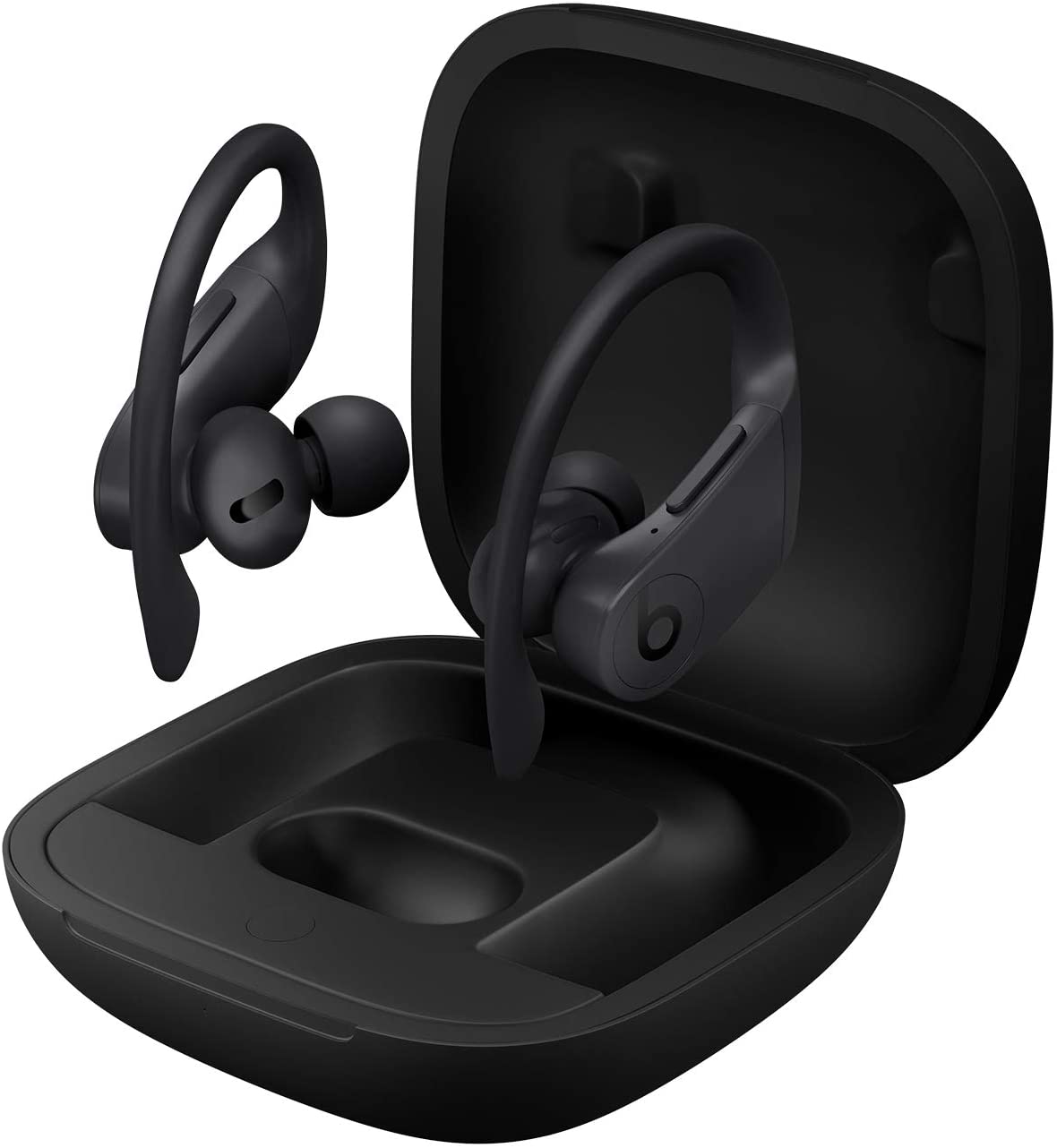 Certainly, there's even more to the Powerbeats Pro than simply flexibility and comfort. There's control as well in the form of a quantity rocker button. The Beats icon itself is likewise a switch. You can use it to take telephone calls and play/pause songs with a single tap, while a dual faucet misses forward a track and a three-way faucet returns. You can likewise fast-forward as well as rewind by holding on to the last of these faucets.
Most importantly, the controls are duplicated on each earpiece, so there's no need to remember which side does what– that can make a difference when you get on the treadmill and also every little reluctance matters.
The various other item of built-in tech that works wonders is a sensing unit that discovers whether or not you're wearing the headphones. Take one of them off for a moment, and also they'll send out a message to your gadget to stop the songs. Place them back on and also playback will begin again. Every now and then the sensors get puzzled, yet it's a function we truly enjoy. You can likewise override the system by pushing the Beats button need to you want to maintain listening with just one earbud.
BEATS POWERBEATS PRO TECH SPECS.
Battery life 24 hours.
Bluetooth Yes.
Lightning port Yes.
Cost situation Yes.
Siri assistance Yes.
Naturally, the wireless technology that connects the Powerbeats Pro to your music device is Bluetooth and it's Apple's H1 chip that supervises. In regards to consistency of link and also convenience of pairing, it really is Bluetooth at its best. There are no dropouts of sound throughout our testing with the playback from each ear regular at all times.
There's no awkward mix of buttons for Bluetooth set up either. Rather pairing mode is triggered any time you open up the Powerbeats box with the earphones anchored within. Bring the box close to any kind of iphone tool as well as it kicks in instantly– it isn't much harder with Android. Once coupled with one iOS gadget, you'll discover they're automatically registered on all the others you own also. Must you open up the box near any one of your iOS devices from thereon in, you get a graphic display screen of just how much battery power you have actually left.
Finally, the Powerbeats Pros come with Siri voice assistant assistance, which will certainly make call, search for info and perform various other jobs. It's not something we locate particularly helpful during our run, yet it's definitely beneficial at other times.
Besides, for most of the core music features, the remote controls on the Powerbeats themselves are exceptional in their very own right, yet we are excited by just how well tuned the microphone is into picking up the Siri wake command.
Sound
Beats has a history of generating bass-heavy earphones and also there's no change in kind here. When paying attention to reduced quality streaming solutions, however, that tonal prejudice is completely acceptable.
However these are earphones to exercise with and it is necessary to provide the possibility to do what they were produced. So, we pull on our fitness instructors, fire up a Spotify Operating Strikes playlist and also hit the sidewalks.
An absence of dynamic array in the audio makes the opening examples of a runner's feet pounding the pavement seem like a weak pitter-patter. They're not the heart thumps they're intended to be, as well as they don't demand interest. When the thundering bass kicks in, we're astonished at just how soft and also imprecise it seems in comparison to rivals, such as the Award-winning Sony WF-1000XM3s.
There's little power or agility to the Powerbeats Pros. Obsessed comes to be simply a step of one more 4 minutes of running as well as not the shot of adrenaline we need to pull us through the following mile.
We try once again with Better When You're Passed David Guetta, which the Sonys recreate with excellent equilibrium and timing. The huge synth, which normally presses the last ounce of stamina from our muscular tissues, ends up being a messy noise with the Beats. When the tune breaks, the single guitar misses all poignance against an all-but-quiet background.
It's a sensation of actual disappointment. Also the bass, where we expect these earphones to stand out, is missing weight, authority and also the punch we 'd hoped for.
Verdict
We appreciate the Powerbeats Pro headphones for their develop, their fit and their superb attributes. Thanks to the Apple H1 Bluetooth chip modern technology, they're wonderfully simple to establish and also make use of, as well as they're virtually glitch-free in their distribution of cordless sound.
However their music efficiency brings them down. While not persistantly bassy as well as replete with detail, they simply don't have the sprightliness to maintain us interested even in tracks we understand as well as like.
In regards to usefulness, the Powerbeats Pros are an exceptional collection of headphones, which makes it even more unsatisfactory that they're so pull down for audio. They might have the battery life and also construct to last 26 miles, but if we had to get ourselves with a marathon, we prefer to be using something else.
SCORES.
Audio 2.
Convenience 5.
Construct 5.
OUR VERDICT
In many ways these are among the best in-ear wireless sports headphones available, but not for sound
PRO
Superb playback consistency
Flawless comfort and fit
Intuitive control system
Great battery life
CON
Case is fairly bulky
Limited noise isolation
Only IPX4 rated
---
There's no denying Bose's support is over-ear noise-cancelling headphones. The business presently uses the tastefully developed Bose 700 as well as the aging, however still excellent, QuietComfort 35 II. It's not too unusual Bose really did not study true cordless with loads of designs over the last couple of years.
With the QuietComfort Earbuds, Bose leveraged the lineage of its popular QC earphones and also brought effective energetic sound cancellation (ANC) to a new real wireless option. As well as regardless of having to wait more than a year since the initial tease of the QC Earbuds, the company lastly supplied.
Design
I'm not going to dice words here: these earbuds are substantial. I assumed the WF-1000XM3 were large, yet the QC Earbuds are noticeably larger. Like the Sony design, nearly all of the earbud sits outside of your ear, with just the tip put within. Consequently, the brand-new Bose version makes you appear like you're putting on two Bluetooth headsets from 2010.
And appearance, I get it, some people do not mind the visual. Yet with true wireless earbuds trending smaller sized by the month, it could be a bargain breaker..
Regardless of the dimension, the QuietComfort Earbuds don't really feel especially heavy. The weight is halfway decent stabilized so they do not seem like they're going to fall out. At least, when you find the most effective ideas for your ears. I
t can be unpleasant at first, yet they sit tight even when you're active. Bose also included a fin to the detachable ear idea to help protect things in position.
I expected these to be somewhat uneasy due to the added mass, but those ear tips maintain points feeling nice after hrs of non-stop wear. The QC Earbuds are also IPX4 ranked, so they'll stand up to a small quantity of wetness.
Nevertheless, the Bose Sporting Activity Earbuds ($ 179.95) are really developed for workout, but they're IPX4 as well and also lack ANC..
Sound quality
While I favor Sony's normal audio profile, Bose has a flair for excellent audio top quality. The QuietComfort Earbuds are no different. They have a crisp clarity that's superb with finer details like subtle synth grunge, guitar fret noise, arrest drum rattle and also extra. The audio allows as well as full, especially at greater volumes. Sometimes true wireless earbuds can l seem pressed and level, but Bose toenailed the characteristics below. You can hear the layers of tools and vocals, as opposed to having whatever mashed with each other..
The EQ is also well-tuned for a series of categories. Bose doesn't supply a flexible equalizer for the QC Earbuds inside the Music application, and that's a little bit of a downer. Yet, these audio beautiful damn good out of package.
There's ample bass, however it's not extremely boomy or stressful. It provides a backbone to the folky alt-country tunes of Ruston Kelly, however additionally offers smack to tunes on Sylvan Esso's Free Love and Run The Jewels' RTJ4.
If I was forced to quibble, there can be a little excessive emphasis on vocals sometimes, but it's much from a major concern– and some designs also benefit from it..
Call quality
A great deal of real wireless earbud business make lofty cases concerning phone call performance. A lot of the moment you still wind up seeming like you're talking on a speaker phone. Any type of buds will help phone calls, but a lot of them are much from an ideal alternative in loud settings.
There are some exceptions, however mileage varies significantly. Bose developed a devoted voice microphone inside the best earbud for phone calls. The firm says it's developed to concentrate on your voice as well as shut out the mayhem around you..
Sadly, the outcomes are rather mediocre.
The individual on the various other end of call said they can listen to a great amount of background sound as well as my voice had a tinny, piercing quality to it.
They additionally saw that the shout around me ended up being much more common when I stopped speaking, which wasn't the instance with the Sennheiser CX 400BT.
Bose does offer you the capability to readjust how much of your voice you listen to via the buds during calls, with alternatives for reduced, medium, high and none in all..
Battery life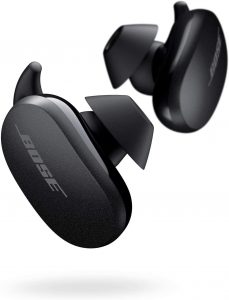 Bose assures six hrs of use on the buds themselves with another 2 complete charges in the instance. During my examinations, I got virtually 7 hours. As well as I typically had the ANC degree all the way up so I might concentrate on job.
If you find yourself in a pinch, the business supplies a fast cost attribute that will certainly provide you two hours of listening time in 15 minutes. And as I mentioned, you can charge the entire bundle wirelessly or with a USB-C wire..
While some business offer real cordless earbuds with 10 or even more hours of play time on the buds, most of those do not have ANC. When you look at the most effective noise-cancelling options, Bose is in the same ball park.
Sony's WF-1000XM3 additionally lasts six hours and Jabra claims its approaching Elite 85t will compete five as well as a half. Honestly, 5-6 hours is plenty for earbuds. Typically, you'll dock these in case after an hour or two, so they'll be covered up routinely. Certain, you may need to push the limits at some time, but six straight hours of music, podcasts or phone calls is far from "normal" usage for most individuals..
Wrap-up
Bose has actually come a long way since the SoundSport Free. The firm had years to ideal its following collection( s) of real wireless earbuds, and it's developed a tempting plan. The QuietComfort Earbuds have effective ANC as well as wonderful general sound high quality, plus premium functions like cordless charging.
The restricted customization and also touch controls could be a headache for some, and also the large-sized buds create an appearance some might not desire. And when you consider rate, Sony's WF-1000XM3 is an appealing alternate regardless of its age.
Bose as well as Sony have come to blows over noise-cancelling earphones throughout the last few years, now they're doing the same for true wireless earbuds. And Bose lastly has a product that can give Sony a run for its money.
Pros
Crisp and clear sound
Powerful noise cancellation
Comfortable despite the size
Wireless charging
Cons
Large earbuds and case
Awkward look due to size
Limited touch controls and customization
---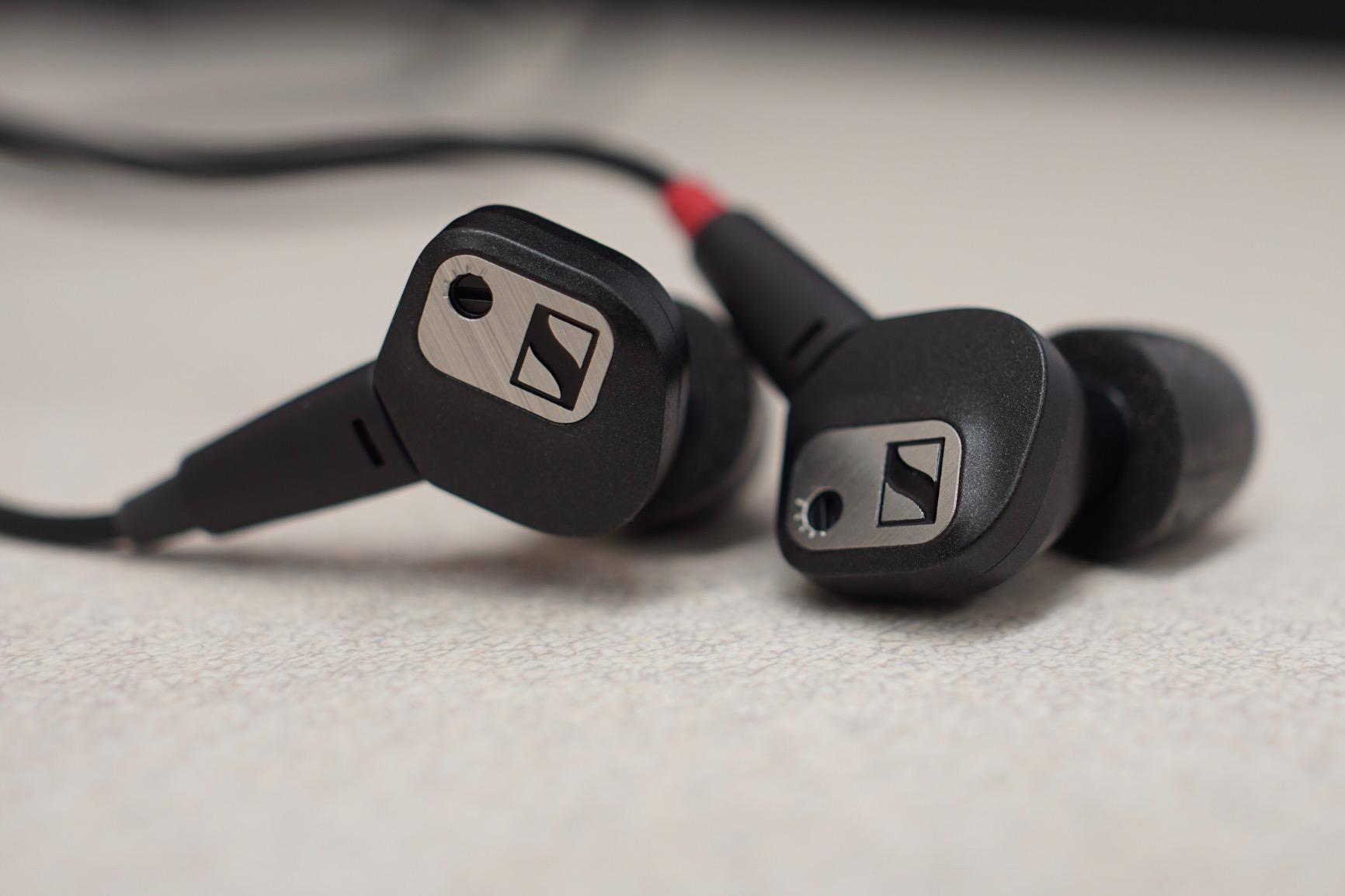 These have a very flat audio signature (audiophile). They are easily driven with a cell phone with a good output.
The Key is you need to use an equalizer on your phone.
The soundstage is ok, definitely not over-ear big, but defined. Use your on phone equalizer to drill into instruments or vocals, actively exploring things you've missed in very familiar songs.
I recommend Bob Marley Legend as a good starting point. Some incredible guitar work and backing vocals worth exploring. Also very worthy are the Kinks stereo albums (Lola, Muswell Hillbillies and beyond).
These are not really a plug and play headset you would use at the gym. After a good burn in (30 hrs) these do loosen up and require less power.
OUR VERDICT
These Sennheisers are weighty and full-bodied, but lack the excitement to justify their considerable price
Pros
Weighty, full-bodied and detailed sound
Not a hint of harshness
Tuneable bass response
Exceptionally comfortable to wear
Cons
Lacking punch, timing and dynamics
Not particularly exciting
Mic/remote cable costs extra
---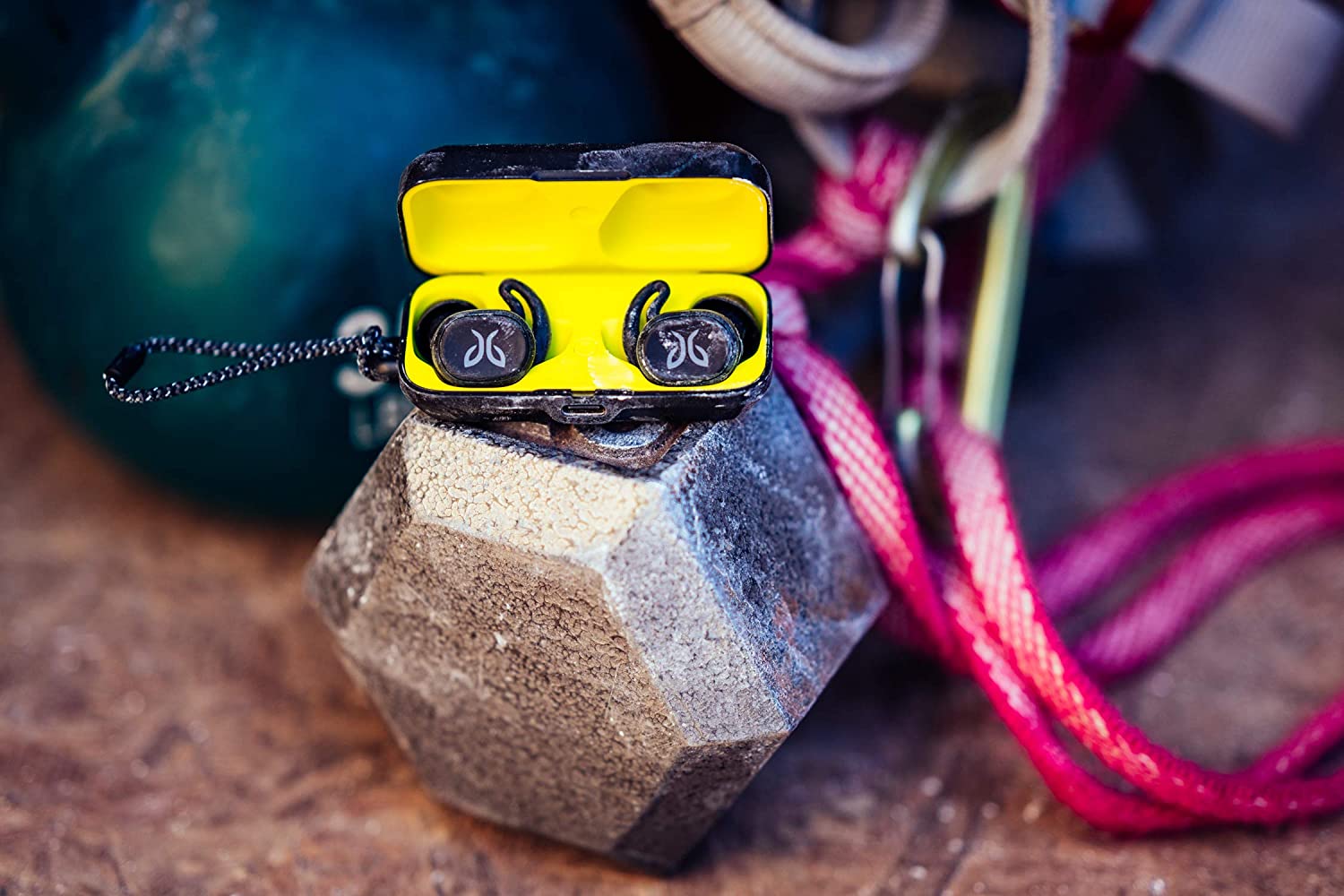 I wanted Bluetooth earbuds specifically for exercise. I do things like side planks where one's head is parallel to the ground. My Apple wired earbuds had a tendency to fall out of my ears when doing that and I got sick of trying to find a place to put the iPhone and messing with wires.
With these Bluetooth Jaybird Vista earbuds I can just leave my phone charging in the next room, or put it on a chair in the same room, and keep it out of the way. The range is excellent – around 50 feet or more.
If you find the right "gel" covers for each ear, which are supplied with the earbuds, the earbuds stay in just fine.
Two things to bear in mind. I exercise at home, or outdoors, so there are no competing bluetooth signals that some other reviewers mention having problems with.
And I listen to podcasts on my iPhone and earbuds, not music, so I can't comment about music quality. Certainly the sound quality is perfect for podcasts.
The passive noise isolation works very well. No matter how loud traffic is outdoors, so far I can hear the podcast just fine. It is rather like having earplugs, so you can hear your footsteps as you walk. I noticed my footsteps when I first started using these, but I no longer do, having got used to it. I have been using these for about 2 weeks.
The charging case is elegant and works great. Jaybird have paid attention to details and even the covering of the case feels just right. I exercise for no more than two hours, so I have never approached the limits of the battery life. The Jaybird Vistas pair with my phone perfectly and pretty much instantly.
If you want to turn them off, you just push one or other of the earbuds. Your voice will sound a bit muffled to you even with them off because of the earplug like nature of the earbuds. I have used these to make video calls and they have worked just great for this too.
OUR VERDICT
Perfect fit, well-balanced sound and lengthy battery life make Jaybird's $180 Vista worth buying, despite minor connectivity issues.
PROS
Earbuds can be used independently
16-hour battery life
Perfect fit, especially for small ears
Well-balanced, customizable sound
Cons
Lag while watching videos
---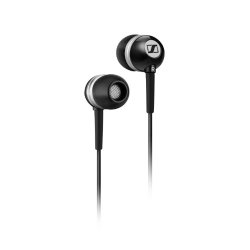 Famous Sennheiser earbuds that offer a lot of bass for the price.
These Sennheisers provide powerful, bass-driven sound with crystal clear clarity much better than any similarly priced earphones.
Sennheiser stands for quality which lasts. This specialized German company has made another great product.
In this price range, you'll have a hard time finding better earbuds that produce the clean, precise mids and highs with punchy bass. CX 300 II just do a better job.
Fit (Isolation)
One side of the wires is longer than the other (J wire) if this annoys you avoid them.
Provided are different sizes of silicone ear tips to allow for a customized fit.
The earbuds are light and easy to fit into ears with a good seal. In case you want the most out of them, some Comply foam tips do a good job at improving the experience.
Passive noise cancelling isolation does a good job depriving your ears of background noise and can be ranked better than average.
Comfort
Because of their lightweight design, these are very comfortable. The earbuds aren't too big and you can fit them even in smaller ears.
Keeping them in ears during work or watching a movie won't irritate your ears. A product well done by Sennheiser.
Durability
Build quality is high as is standard with all models of this German brand. Sure they are completely plastic, but they're still sturdy enough to withstand a lot of everyday abuse.
The L-shaped and reinforced 3.5mm plug won't give out easily, it's a solid design.
You can easily use these for your workouts, your job commute or just for listening at home.
Features
The CX 300 II Precision Enhanced Bass earbuds don't have any special features. You get the earbuds, wires and a 3.5mm plug-in, 3 sizes of silicone ear tips and a small pouch. The basics.
Sound
Plug them in your phone, MP3, tablet or computer and you'll always get a clean sound with strong bass.
Sennheiser CX 300 II Precision Enhanced Bass have more of a balanced sound signature than other bass earbuds here. The bass is still emphasized but doesn't have the same overpowering oomph like with other models.
The treble and mids are less overpowered by bass as with comparable basshead models. They're crisp and produce good details. If you like a bit more bass, but also like clear highs and mids, these earbuds are for you.
Bass is still overpowering and even muddy at times, but this is what bassheads usually like.
For the absolute bassheads, you might want to look at some other models first.
For a great combination of everything earbuds are supposed to have, plus clean highs and mids with strong bass, Sennheiser CX 300 II are for you.
PROS
Clear and surprising bass sound for its size
One of Sennheiser's popular models
Affordable price
Very good durability
Great comfort
CONS
These are low to mid-level earbuds and won't satisfy a demanding audiophile
Not the strongest bass from the list (if you like extreme bass only)
---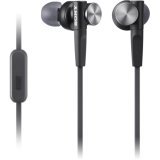 These are the cheaper sibling of MDR-XB90EX. While not as good these earbuds still play great bass tones.
It doesn't matter what kind of music you're listening to, you'll hear the bumps.
If you don't want to pay too much money and like Sony products, these earbuds don't disappoint. In fact, they are one of the best Sony earbuds on a budget.
Fit (Isolation)
Getting an airtight fit is easy. The design isn't any different from many other Sony IEMs (in-ear monitors). You get used to their design fast.
The quality of the fit depends on the ear tips you're using. Get the right size for your ears. Or better yet, get premium Comply tips and experience MDR-XB50AP at their best.
You get 4 different sizes of silicone ear tips, enough for a regular user.
Passive noise cancelling sound isolation is good as you'd expect from any in-ear monitors. You will still hear some background noise of course, in case you're looking for maximum silence in earbuds, look at best isolating models here.
Comfort
Just like the XB90EX these are bulky and may be uncomfortable for some people. If you don't care about looks too much and can use bulkier earbuds, then you're a perfect person for these.
The comfort is good as long as you don't try to sleep on the side with them. The earbuds stick out considerably and it's impossible to get a comfortable position lying on the side. Sleeping users, beware.
Durability
Made out of quality materials with a durable design that is going to last even if you take sub-par care of them. Sony is known for making durable, high-quality products and these aren't any different.
The cable is flat, which helps keep it untangled, but rather narrow so it's hard to see the flatness of it. Strain relief is decent enough so you don't accidentally ruin the IEMs on your first pull.
Did we mention these have gold-plated, L-shaped plug? Yes even for such a low price, you get the best contacts for sound which helps with sound quality.
Features
The in-line microphone could be better, but at this price, it's just a bonus so you can't expect too much from it. While it's still usable to make calls, the sound recorded is not always crystal clear.
The in-line remote, compatible with iOS and Android, has the play/pause and call functionality. You can change songs with it too, 2 quick clicks for forward, 3 for backwards.
You get a carrying pouch in the package, but it doesn't offer much protection from physical abuse, still useful for protecting the earbuds from moisture.
Sound
The overall sound signature is bass heavy and this cuts into the details and richness of mids and treble. If you're a basshead you probably don't mind.
To put it into one sentence, they have average sound quality with great bass so basically, they're a perfect fit for anyone looking at affordable bassy earbuds.
For a very affordable price you get durable Sony earbuds that play great bass, have an in-line mic & remote and gold plated plug-in.
In conclusion, Sony MDR-XB50AP are hard to beat, this is why they're one of the best bass earbuds on the market right now.
PROS
Affordable price
Really good at playing bass
Durable design
Mic & in-line remote
Great value for money
CONS
Big and bulky like the XB90EX
Could use better microphone
---
JVC ash replaced the well-known FX1X model that has been very popular with bassheads with HA-FX102 that's even better.
The updated earbuds don't disappoint. They are very similar to the predecessor, but this time, you can get them for a dirt cheap price.
For everything a basshead wants for as little money as possible, get these.
Fit (Isolation)
The fit is pretty good considering these earbuds are rather big and bulky. You might need to adjust the fit every once in a while, but this isn't a deal breaker.
The 11mm drivers in a budget model are rare to find, but bigger drivers have to go somewhere.
Sound isolation is average for IEMs, which makes it pretty good overall. For better passive isolation get some Comply foam tips, they perform the best.
Comfort
When it comes to comfort the bigger size of ear cups don't bother, as long as you aren't annoyed by having to adjust them once in a while. The weight doesn't pull them out too much, but it does happen.
Generally, they are good enough to wear for hours, just don't expect top-notch comfort from them. These are a budget model after all.
Durability
The build quality is pretty good considering, they're bigger and heavier than your average earbuds. All this heft makes them more durable. You can find better-built earbuds of course, but it would be wrong to say they are built badly.
Are you a runner? Get top runner headphones here.
The cords are pretty thick and the L 3.5mm plugin seems solid, overall a good job by JVC.
Features
They don't have a microphone or a remote, but you have a nice color selection to choose from. So you can pair them with your personal clothing style.
Considering everything that you get with HA-FX102, this is already a great value for money deal. Not considering the mic or a carrying case.
Sound
The sound is where JVC HA-FX102 really shine as they produce a ton of bass per $ spent.
The fun V shaped sound signature comes alive in every song. The bass is strong and deep, overpowering the mids, but not treble. Highs are quite detailed for a model like these, though you can find better. There is also some sibilance present in certain pitch intensive songs.
The bass focuses on the deep low frequencies more than the sub-bass. You can even hear a bit of a rumble, which is very rare for such cheap earbuds.
Note: Top budget headphones here (over-ear & on-ear).
Keep in mind that the bass needs some burn-in before it finally comes alive. Therefore don't expect much bass when they're brand new, it needs some time to develop.
Overall, the JVC HA-FX have fun, deep bass sound packed in a solid casing that you can get for an unbeatable price.
If you're a basshead, but short on cash, get these.
PROS
Best bang for the buck basshead earbuds
God fit and comfort
Solid design
Fun V shaped sound signature with deep bass
CONS
Some sibilance with pitch heavy songs
Check out similar articles like top Bluetooth noise cancelling headphones.
Vote for Your Favorite Bass Earbuds!
We want to know what you think about this selection.
Should we add some new models?
Share your opinion with us in the comment section below and make sure to include why you think your model should be added to the list.
It's very important.
Growing the best list of bass earbuds with your help will be much easier.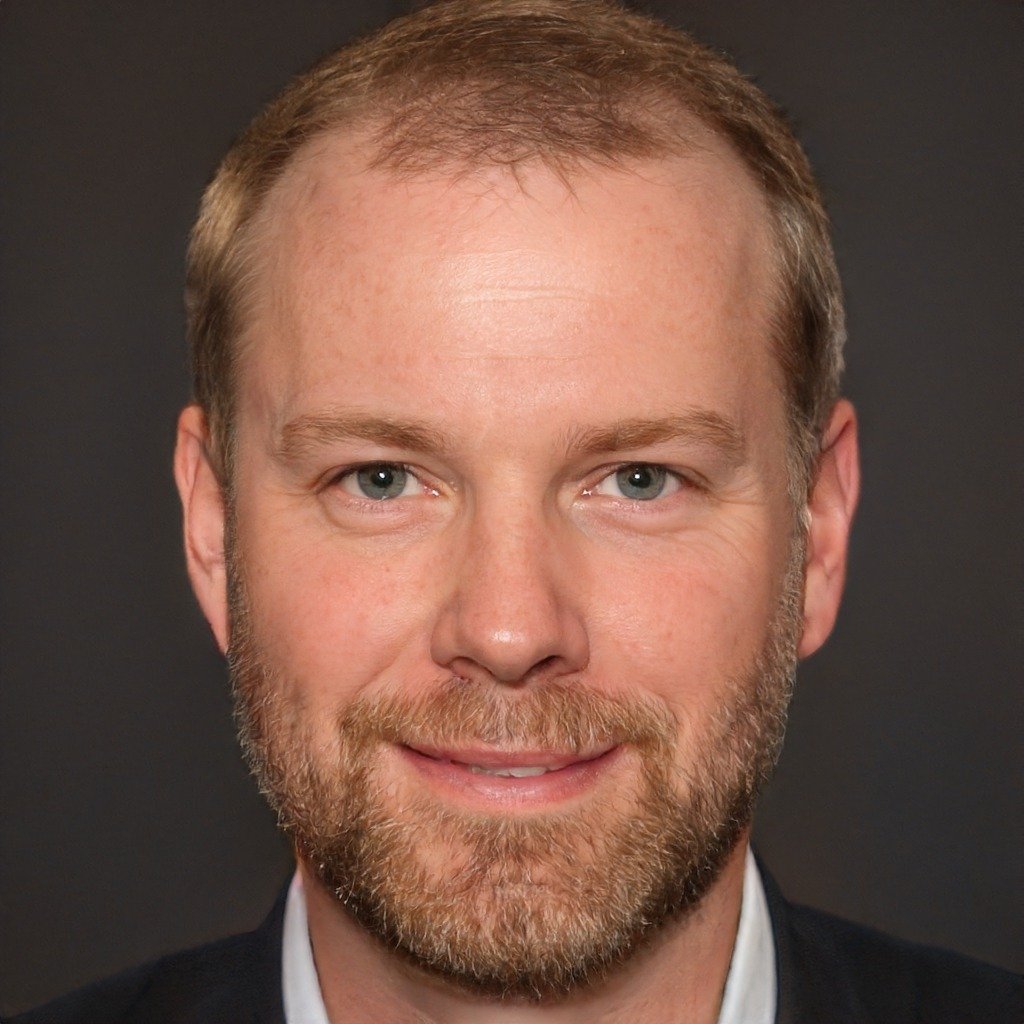 Hey there mobile audio lovers! My name is Darlene R, founder and chief editor at headphonesfans.com. Ask any mobile audio fanatic, installer, or company rep what makes a good car speaker, sub or amp, or, better yet, why he or she prefers a certain brand over another, and be prepared to endure a litany of opinions, viewpoints, and passion-fueled perspectives. To be honest, mobile audio shopping can be a daunting task without a guide, so I've assembled what I feel are the best products to consider to make things easier for you. Welcome headphonesfans.com!