Find the best cheap headphones (over-ear & on-ear) under $100 you can get right now.
Check the reviews of the models by price range:
Best headphones under $100
Best headphones under $50
Best headphones under $30
Or…
…for quick comparison of all the budget headphones check the table below.
You can also check out the best budget earbuds/in-ear monitors here.
Best Budget Audiophile Headphones.
7 Best Cheap Headphones Comparison
Best Headphones under $100 Reviewed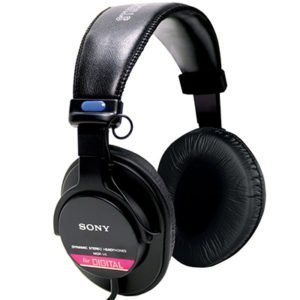 Sony MDR-V6 is a classic model of headphones famous for its evergreen design and sound.
It has a special place among audiophiles as it's probably one of the first Hi-Fi models they've encountered.
This is one of the most popular studio models for professionals and it's still in use today even though it's been released in 1985. In headphone age that is ancient.
But don't let its age fool you. The value you get is time-proven and these headphones can compete with the best of them even today.
For the no-nonsense pick, Sony MDR-V6 will not disappoint even the most demanding user.
What's in the box?
Sony MDR-V6 headphones
3mm (1/4 inch) adapter
User manual
Comfort: Very good comfort for long use

The big over-ear design will fit all adults without a problem. They're built for studio use, so they've built them for long use.
The only issue might be the earpads. They are on the shallower side which might bother some people.
Closed-back earpads offer good passive noise isolation as is usual for studio monitor headphones. This means less sound will leak out or come inside.
Durability: Very good build-quality, earpads are a weak-point

These are built to last. The metal headband protected by leather cushioning and durable plastic earcups fare very well with time.
There are people who still own and use them for 25 years now. This is something that cannot be said about most headphones.
The only bad parts are the earpads. They start to flake after a while which seems a flaw with the original design.
With heavy use, the earpads fabric starts to disintegrate over time. Thankfully you can replace the earpads if the first ones get too damaged. Velour earpads are recommended.
Features: Foldable, long coiled cable

The Sony MDR-V6 don't offer many special features, but they do offer some.
Headphones fold together for easier storage. Now they don't come with a carrying case or bag, but you can always get that separately. You can take them with you anywhere you go.
The second thing is their cable. 10ft (3m) long. It's coiled which is rare to see nowadays. The benefit of this is that the cable can extend to a good distance. But when you don't need it, it shrinks back to normal length.
You get the best of both world's, long cable and convenient size, though the cable tends to tangle a bit more because of it.
These are pretty much all "features" of Sony MDR-V6 but they more than make up for it in sound quality, comfort, and durability.
Sound: Studio clarity, lots of detail, deep, punchy bass but not heavy, good soundstage

The design might look very old, but the sound is still very modern and updated.
Overall, the sound signature is rather balanced with crispy clear details and punchier bass.
These are not basshead headphones.
The highs might suffer from some sibilance at certain points, but the overall level of detail is just amazing for the price.
The mids are rich and well pronounced.
The bass can be very deep and controlled. It doesn't bleed or overpower other ranges and has a good presence.
They're great for listening to all kinds of music as long as you don't expect ear puncturing bass.
The soundstage is very good as well, making them a good choice for gaming too. Soundstage responds well to amplification in case you want to get the most out of them. Note: Find other gaming headphones here.
Sony MDR-V6 will sound great at whatever you want, putting out studio quality clarity and detail in a balanced sound signature.
If you don't mind "vintage" design and want great, affordable, time-tested over-ear headphones that sound great for home use, get Sony MDR-V6.
PROS
Vintage, classic model
Time-tested
Affordable price
Comfortable for long use
Replaceable earpads
Long, coiled cable – 10ft (3m)
Great sound, studio clarity and detail
Great for all music genres and gaming
CONS
Long cord suitable only for indoor use
Earpads need a replacement after a while
---
Sennheiser is known for manufacturing consistently high quality headphones and the HD558 model is no exception.
These headphones provide near-audiophile quality at a current street price of about $100. If you appreciate the nuance and soundstage of your music or movies, then continue reading.
What's in the box:
Sennheiser HD558 headphones
9ft (3m) cables with ¼" straight plug
¼" to 3.5mm jack adapter
Warranty card
Comfort: large earpads, comfortable and lightweight design
These headphones have very large earpads that should completely cover the ear.
Soft velour earpad covers are very comfortable and great for long term wearing.
They may feel a little bit tight at first, but the padded headband will loosen up and wear in over time. After regular usage, the headphones should have a natural fit that isn't too tight.
In comparison, the headphones are heavier than some other open-back designs, but the overall comfort level is very good.
Like any open-back headphone design, this model will have some sound leakage at higher playback volume levels with very little outside noise isolation.
Durability: solid build with good attention to detail
Even with plastic construction, the build and design quality of these headphones is very good. They look and feel solid.
There are minimal hinge and pivot points, allowing for fewer points of failure in the headband design. However, this also means that these headphones are not compact or ultra-portable.
Features: open back design with quality components
Even though the HD558 headphones are open-back construction, they still provide a fairly private listening experience with sound leakage occurring only at high listening levels.
The overall style and design of the headphones is somewhat muted, but it is also approachable without feeling cheap.
The highest quality components of the design are reserved for the high-end audio drivers and earcup tuning using Sennheiser's E.A.R technology (Eargonomic Acoustic Refinement).
A detachable 9ft (3m) twist-lock cable is provided with a ¼" plug and a ¼" to 3.5mm adapter.
Sound: high quality full-range audio, spacious soundstage, natural tones
The sound quality of the Sennheiser HD558 headphones is remarkably clear and natural, even bordering on audiophile-grade quality.
The bass is tight and responsive, without being overbearing or pushy.
Mids are warm, yet have a presence and clarity that gets your attention. Stringed instruments and vocals sound exceptional with these headphones.
The highs are crisp, bright and full of detail, without being shrill or piercing.
The overall accurate and natural frequency response allows these headphones to work great for listening to nearly every genre of music.
A wide and open soundstage provides a very detailed music and movie listening experience, especially for large instrumental pieces and soundtracks.
While it's generally true that all headphones can benefit from a fair amount of burn-in time, the HD558 model can definitely benefit from at least 100-200 hours of use before optimum audio performance is reached.
These headphones are not compact, and they might not win any style points. However, they sound great and you might just find that they are the best sounding headphones for $100.
If audio quality and accurate frequency reproduction are priorities in your headphone search, then Sennheiser HD558 are worth listening to, even if you're in the market for a higher-priced model.
Pros
Wide and spacious soundstage
Large velour earpad covers
Detachable 9ft cable
Quality construction and build by Sennheiser
Excellent clarity and frequency reproduction
Tight bass, rich mids, and even highs
Balanced sound signature, audiophile friendly
Cons
Heavier than other open-back headphone models
Open-back design does leak some noise
Molded ¼" connector on cable requires adapter for use with common portable device 3.5mm jacks
---
Best Headphones under $50 Reviewed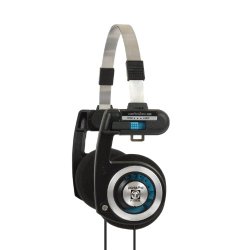 Available for well under $40, the Koss PortaPro headphones are a superb value for those needed big sound from a compact package.
These headphones feature a classic design that hasn't changed since 1984, and the audio quality rivals many headphone models that are twice the price.
What's in the box?
Koss PortaPro headphones
Soft pouch with draw-string for storage
4' cable with straight 3.5mm plug (permanently attached)
User manual
Comfort: very comfy, ultra-compact & lightweight, light clamp force
The on-the-ear design of these semi-open-back headphones works great, given their lightweight construction and minimal structural elements.
The adjustable temple pads provide a little bit of support above the ears so that the ear cups do not clamp too tight. This makes them useless for running.
Note: Check headphones most suitable for running here.
The PortaPro design does not provide any level of noise isolation, so they are not well suited for environments where noise needs to be blocked out or where sound leakage from the headphones will be a problem.
As you can see from the picture above, the headband is very thin and light, but adjusting the headband on the head may grab hair and cause some initial discomfort.
The earpads are nothing special, but the headphones are so light that the thin foam surround will not be a problem for most users.
Durability: holds up well for travel and repeated use
The thin metal spring-steel headband is strong, and the hinged plastic attachment points with the earcups are robust enough to withstand persistent use.
The compact design is very functional and sturdy, although excessive pressure on the hinge points will result in hairline cracks or breakage.
The steel headband is quite strong, so users should not be concerned with folding these headphones and storing them in the provided pouch.
Features: open-back, on-ear design, very compact, weak cable design
With a dynamic semi-open headphone design, the Koss PortaPro earpads rest on the ears instead of over them. This makes them quite comfortable and very suitable for long listening sessions.
The headphones come with a permanently installed 4ft (1.2m) cable with a straight 3.5mm plug.
One major downside is that the cable has minimal strain relief. This design can cause the cable to easily tangle and possibly break under harsh conditions.
Sound: dependable audio quality that isn't bass-heavy, even highs and punchy mids
For a rather small dynamic driver with a paper diaphragm, these headphones really produce some exceptional audio.
Furthermore, the soundstage is open and reasonably detailed, and the open back design allows for some pretty good imaging.
Mid tones are delivered very tight, and even punchy which is great for various types of music.
The bass response is not overbearing, but it does lack a bit of the controlled depth that some listeners might be used to with larger headphone drivers.
Considering the price and how compact these headphones are, the Koss PortaPro are a classic worthy of their solid reputation.
The retro design is instantly recognizable and the sound quality is very good.
These lightweight headphones are perfect for wearing around the house or throwing in a travel bag. Just be prepared for the tangle-prone cable and a metal headband that can grab your hair when adjusted on the head.
Note: For those interested in a model with in-line volume controls and a smartphone compatible talkback mic, Koss provides the PortaPro KTC headphones.
For a great sound at a low price with a vintage look, get Koss PortaPro.
Pros
Very lightweight design, comfortable
Does not clamp too tight
Sound comparable to more expensive models
Clear highs and punchy mids
Cheap price, great value for money
Cons
Headband can grab hair
No noise isolation
Carrying pouch is a little on the small side
---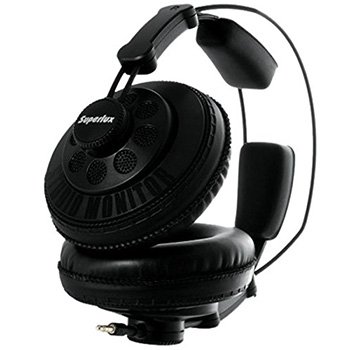 The audio quality of these headphones is rather impressive, given their modest price point of less than $40.
The Superlux HD668B headphones make a great companion for casual listening environments as well as for work, commuting, or a home recording studio.
What's in the box?
Superlux HD668B headphones
Soft pouch draw-string for storage
3ft (1m) & 9ft (3m) cables with 3.5mm jacks
5mm to ¼" jack adapter
Cable connector clip
User manual
Comfort: light-weight headband, large earpads, comfortable design
Most users will find the headband and earpads to be fairly comfortable.
The unique wire headband design with extended top pads provides just enough clamping without being too tight for larger heads.
The earcup size is good for most ear sizes, comfortably fitting over the ear.
The included vinyl earpads are adequate, but replacing the stock pads with velvet or velour earpads would really add to the long-term comfort level and wearability.
Note: Superlux does not offer additional earpad options with this model, so third party pads would be required.
A semi-open back design provides medium-low level noise isolation, so there will be some sound leakage.
Durability: durable no-hinges design, overall build quality holds up well
Although the general build quality feels a little cheap, the HD668B holds up well for a variety of uses, and the minimalist headband components do not feature the weak plastic hinge points often found in other headphones.
It should be noted that the lack of a hinged design, while good for durability, does not add any compactness to the overall design.
Features: unique detachable cable design, semi-open back design, multiple cable lengths provided
The dynamic semi-open headphone design works well for quality audio transmission while providing a slight level of sound isolation.
Perhaps the nicest feature with these headphones are the two separate cable lengths.
A 3ft (1m) cable and a 9ft (3m) cable allow you to use the right cable length for your listening purposes.
The one odd thing about the headphone cable design is the use of a male 3.5mm plug on the headphones instead of the more common female jack that receives the detachable cable.
This design feature makes a little more sense after you realize that it allows the two cable lengths to be added together for a total 12ft (4m) reach from headphones to the headphone jack.
Sound: well-balanced, not too bassy, good clarity, wide soundstage
The Superlux sound quality is reasonably well balanced. They aren't going to overwhelm you with bass, but you will receive a fairly wide soundstage and good audio frequency clarity.
High frequencies are fairly transparent, which will make some lower quality MP3's and digital music sound brittle or harsh.
The mid tones are warm and balanced, with only a slight reduction in low-mid frequency ranges.
And the bass sounds natural without seeming overly enhanced, which can be common in many low-cost headphones.
While the HD668B dynamic headphones are not necessarily audiophile quality, they do provide good quality sound and features at a great price.
When compared to other headphones in a similar price range, this model holds its own, if not surpassing the audio quality of most competitors.
Comparisons with other headphones at more than double the price still see the Superlux fighting for your attention.
If you're looking for a versatile set of headphones that feature solid audio performance at a great value, the Superlux HD668B is a very worthy consideration.
Pros
Large ear cups, good for larger heads
Detachable cable design allows the two cables to be linked together, allowing for 4 meter length
Good comfort
Great sound for the price, can compare to models 2x the price
Wide soundstage
Cons
May not feel tight enough for smaller heads
Semi-open back design does leak some noise
Not a flat, audiophile response, but great for the cost
Brighter colored sound can be bad for lower quality digital music
---
If you're looking for a great performance in an affordable package when choosing closed-back headphones, the JVC HA-RX700 is a great option. They offer a truly flat curve, minimal interference, and a comfortable fit.
At this price point, these headphones are a smart buy for almost any application.
What's in the box?
JVC HA-RX700 circumaural headphones with 11.5-foot (3.5m) cord
6.3mm plug adapter
User manual
Comfort: "Built for comfort, not for speed"
These are very comfortable headphones, even if a little large on the head. They feel lightweight at 11.6 ounces, with large pads for your ears.
They seem bulky until you try them on, then it's fine to wear these headphones for hours without any strain.
The wide head pad makes for a good hold without too much pressure on your head.
The soft pleather ear pads may get a little hot over time, but overall the headphones sit well on your head and feel great against your ears.
Some slight modding can help you get a perfect fit if necessary, but this JVC pair feels great right out of the box. The soft pads block out almost all exterior sounds, so the sound isolation works great in noisy environments.
The earpad fit means good (not perfect) sound isolation, so you can still hear the outside world around you.
Durability: "Solid construction at an affordable price"
The build quality for these headphones is great, given the price. They seem to hold up well to abuse over time, hardly registering a scratch. Construction is solid and doesn't feel cheap.
The pads and headband seem like they will last for a long time, and the hinges are good quality.
One drawback is the connection for the cable – some users report having to put a small piece of tape to reduce a squeaking noise. "I-plug" on extra-long cable might put some strain on your sockets.
Features: "What you see is what you get"
Basic headphone package with extra-long cord (11.5ft) and a free adapter is all you can expect for such affordable headphones. Any extras like a carrying case or Bluetooth connectivity means looking at a different, more expensive pair.
Solid construction and simple design means they'll last a long time. If you really have your heart set on newer technology and fancier presentation, be prepared to spend a lot or give up on having such high build quality.
These are ready to use out of the box, but they don't come with a lot of extras.
Sound: "Crispy, clear balanced sound"
No break-in necessary – these sound great at all ranges. Some users report they are mellow at first and sound better after 100 hours.
The bass is accurate and sounds great for hip-hop or wherever you need the low end to sound clean.
The mids are mellow. Guitar and other instruments sound great, well-separated, clean, and crisp.
The highs make for a full-bodied, round soundscape. True audiophiles might demand more performance in the high ranges. Treble isn't too harsh or chirpy.
They offer tons of volume with no amplification – great performance.
Overall, these JVC circumaural headphones offer studio-quality sound at a department-store price. Anything under $50 might not come with good build quality or great sound – these are an exception.
If you can handle the long cord and don't need a lot of technology or features, the JVC HA-RX700 are a winner.
PROS
Affordable price, high-quality build
Decent sound with tons of oomph (without amp)
Easily modded to improve fit and dampening
CONS
Very, very bulky and large on the head
Long cable is unwieldy, unless the length is a plus for your setup
---
Best Headphones under $30 Reviewed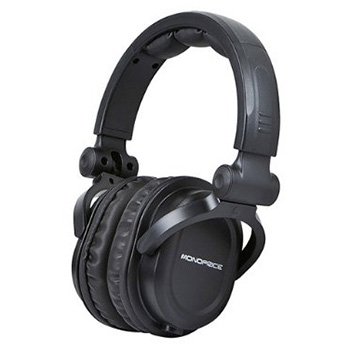 A closed-back design gives these headphones great noise isolation and the large drivers efficiently produce a strong, robust sound.
DJ's will love the earcup swivel design and tight bass response that these headphones deliver, and the additional detachable cables are handy for a variety of uses.
What's in the box?
Monoprice 108323 headphones
4ft & 11.5ft cables with 3.5mm jacks on each end
3.5mm to ¼" jack adapter
Comfort: large earpads, somewhat bulky construction, closed-back design
Overall, these headphones can seem to be bulky and perhaps a little heavy, but nonetheless, they are rather comfortable.
The large 50mm drivers are surrounded by large vinyl earpads that fit snug over and around the ear, fitting well for most ear sizes.
Long term wearing can generate a fair amount of heat and sweat with the vinyl earpads and the headband can be a little tight for larger heads.
The headband is large and well padded, and the swiveling earcups add some extra positioning comfort.
The closed-back design of these headphones provides excellent noise isolation, making them great for noisy environments or private listening needs.
Durability: plastic components but reasonable quality build
The plastic construction and swivel design of the Monoprice 108323 isn't the best, but it does hold up under repeated use and normal physical stress.
The included cables are OK, with the longer 11.5ft cable being thicker and more robust than the shorter 4ft cable.
The great thing about the cables is that they are easily replaceable and do not require a proprietary connector. (Standard 3.5mm stereo plugs are used.)
Features: high noise isolation, closed-back design, two cable lengths provided
Few headphones at this price point provide as much noise isolation while delivering quality audio in a closed-back design. These headphones perform remarkably well in both categories.
The two detachable cables (4ft and 11.5ft) that are included allow for flexible use in a variety of listening environments, whether using a portable music device or at a large desk.
The style and build of these headphones makes them great for use by live sound engineers and DJs. Studio engineers or musicians may find them to be larger and heavier than normal studio headphones.
Sound: strong bass, clear soundstage, treble can lack sizzle
These Monoprice headphones deliver high volume levels from the large 50mm drivers.
The soundstage is clear and decently spacious for a closed-back headphone design, and the overall driver efficiency is good.
Bass frequencies are produced with plenty of punch and depth. The mids are full and generally rich.
The only downside for this 108323 model is that the high frequencies can get lost in the mix depending on the style of music. Brilliance and sibilance are attenuated just enough to notice.
The overall audio response is not flat, but it is fairly warm and very listenable.
They might not be ultra-portable or audiophile quality, but with high noise isolation and great sounding audio for the price, the Monoprice 108323 headphones are definitely worth checking out.
They don't win any points for style, compactness, or plush fit, but even a professional live sound engineer or DJ could benefit from having these as a backup set of cans.
For great-sounding over-ear headphones with strong bass for less than $30, Monoprice 108323 is the best choice.
Pros
High level of noise isolation
Large 50mm drivers
Large ear cups
Great bass response
Warm mids
Overall good audio clarity
Two cable lengths provided (4ft & 11.5ft)
Cons
Treble can be lacking in sizzle and brilliance
Vinyl earpads can get hot
Construction seems durable but has some weak plastic joints
Clamps tight on larger heads
Plastic components easily conduct cord noise through the earcup case
Detachable factory cables are ok, but not the best quality
---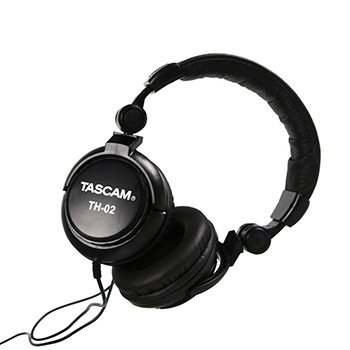 With a street price right around $20, the Tascam TH02 closed-back headphones provide solidly decent audio quality and a compact design that holds up rather well.
A clean design profile and a choice between black or white trim provide good options for listeners needing a good sounding and travel-friendly pair of headphones.
What's in the box?
Tascam TH02 headphones
9ft (3m) attached cable
5mm to ¼" jack adapter
User manual
Comfort: comfortable headband, good fit for larger heads, round earpads
The headband style and padding on these headphones is nice and allows for plenty of adjustment for various head sizes. However, listeners with smaller heads may feel like they fit a little bit loose.
The round earpads are comfortable enough, but the padding is firmer than with some other headphones. These headphones are adequate for medium-length listening sessions, but may not be great for wearing all day.
The closed-back headphone design works well for overall sound quality, but there is more sound leakage from these headphones compared to other similar designs.
The overall comfort level is OK, with plenty of headband adjustments for such a compact design.
Durability: quality design and durable plastic headband components
It can be difficult to find compact headphones that hold up well in demanding portable use environments, but these do a pretty good job.
The TH02 headband and earcups seem to be built with good quality plastic components and a good hinge design.
The weakest aspect of the headphone design is the permanently attached audio cable, which feels a little bulky and cheap.
Features: attached 9ft cable, compact closed-back design, great price
Perhaps the only thing that makes these headphones less versatile than other competitors is the attached and rather long 9ft (3m) cable. It is attached to one side though, so that is a plus.
The closed-back design looks good and performs well acoustically, but the noise isolation is not great.
The foldable headband design makes these headphones very compact, and the hinge design is good.
Sound: Good highs and lows without being too bass-heavy
The sound quality of the Tascam TH02 is remarkable considering their modest price.
Highs are clear and crisp, but not too sharp.
The mids are reasonably well balanced, but they do lack the depth of more expensive models.
Bass is controlled and reasonably tight. A snug earcup fit works well to enhance the presence of lower frequencies, so users with larger heads may benefit from a tight fit with a slightly better low-frequency response.
Listeners looking for a lot of bass won't find a pronounced low-end bump from these headphones, but they do produce a fairly natural tone with minimal coloring.
In addition, the soundstage is rather wide and open for a closed-back design.
Overall, the 50mm drivers perform well, but high volume levels can cause some minor distortion and pops at certain frequencies.
Finding a quality set of headphones for less than $25 can be a challenge, especially if you want a compact, closed-back design. The Tascam TH02 successfully covers the needs of most users in this category.
The balanced and natural sound is not audiophile-quality, but it is clear and full. And the comfort level is good enough for a few hours of continuous listening.
When it comes to value for money in over-ear headphones, Tascam TH02 is impossible to beat. Just get them.
Pros
Good for larger heads
Natural sounding bass and crisp highs
Compact & foldable headband design
Plastic but durable design
Good soundstage for a closed-back design
Amazing value for money when comparing performance and price
Cons
9ft long attached cable is a bit long for portable use
High volume levels can cause some frequency distortion
Not an audiophile model
---
What to Expect from Cheap Headphones?
All the headphones recommended here provide more value than what price suggests. Though there are some differences among them.
When you are spending less money on a pair of headphones the first and most common thing manufacturers save on is durability.
Budget headphones usually have a fully plastic structures and don't use any fancy or expensive materials.
Also, cheaper headphones won't have as many features and accessories as pricier models. Most of the headphones come in a very basic package.
Maybe you want to check: Most Durable Over Ear Headphones.
Nonetheless, you don't have to spend more money to get a great sound. Since sound is the most important part of any headphones, all the models on this list offer great sound quality for their price.
Do you have your own recommendation for the list of top budget headphones? Only over-ear and on-ear apply here. Tell us in the comments section below.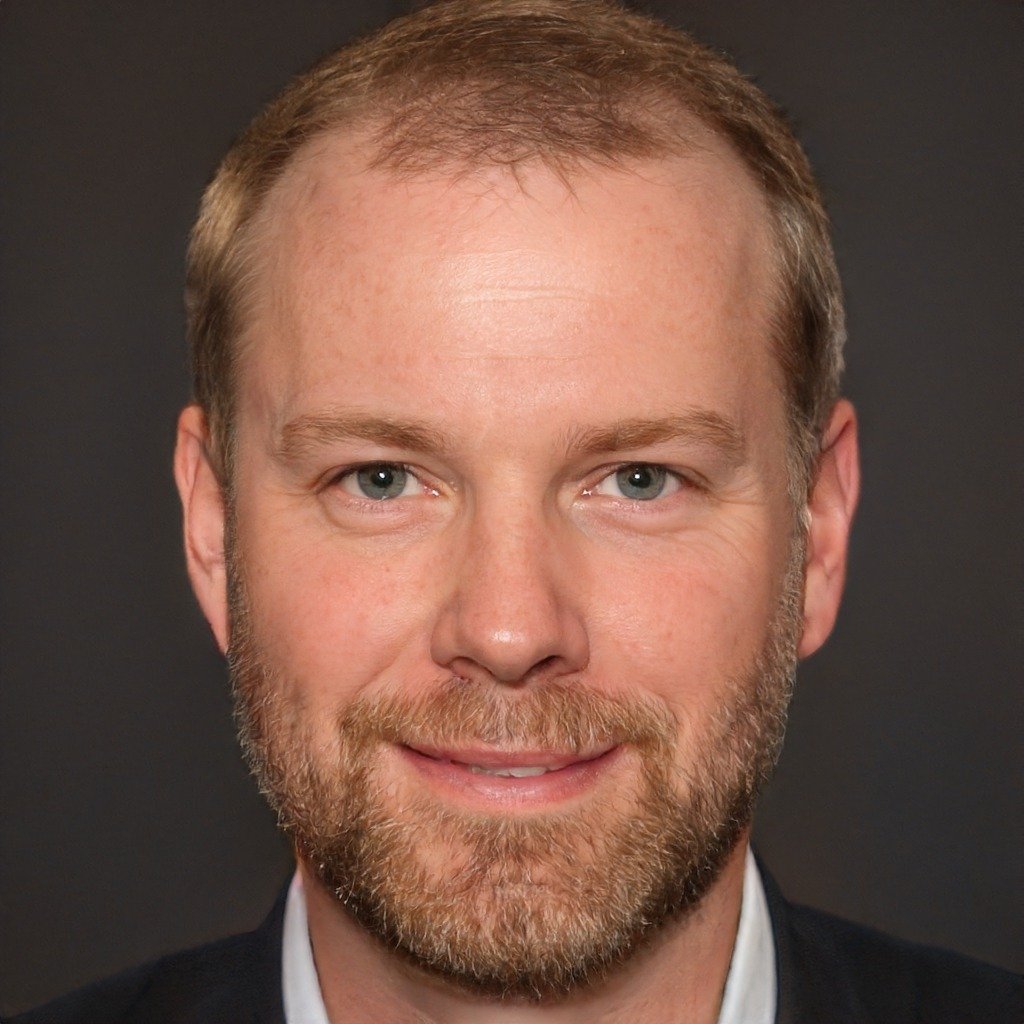 Hey there mobile audio lovers! My name is Darlene R, founder and chief editor at headphonesfans.com. Ask any mobile audio fanatic, installer, or company rep what makes a good car speaker, sub or amp, or, better yet, why he or she prefers a certain brand over another, and be prepared to endure a litany of opinions, viewpoints, and passion-fueled perspectives. To be honest, mobile audio shopping can be a daunting task without a guide, so I've assembled what I feel are the best products to consider to make things easier for you. Welcome headphonesfans.com!