When Harley Davidson needed a stronger and more full-bodied sound, people started making additional speakers. These speakers are found in the top models today. The Best Speakers for Harley Davidson on the market today are the Infinity Kappa speakers. They are extremely versatile and can be used in all conditions.
This is just one model that suits Harley Davidson. Each model has a variety of features and many innovations that will make your ride more enjoyable. Let's find out together what the best speakers are for Harley Davidson.
Best Speakers for Harley Davidson Comparison Table
| Picture | Size in Inch | Power and W | Sensitivity, in dB | Frequency Response, in Hertz | Bluetooth |
| --- | --- | --- | --- | --- | --- |
| | 6.5 | 450 | 95 | 45-25,000 | - |
| | 5.25 | 100 | 92 | 55-25,000 | - |
| | 6.5 | 150 | 91 | 56-20,000 | - |
| | 1.25 | 100 | 78 | 80-16,000 | Yes |
| | 3 | 600 | 85 | 80-15,000 | Yes |
---
Top 5 Harley Motorcycle Speakers
Infinity Kappa Coaxial Set – Top Pick
Hogtunes Front speakers – Budget Options
Rockford Fosgate Motorcycle Speakers Premium Choice
LEXIN Street Glide speakers
BOSS Audio Systems
Some speakers are not compatible with motorcycles. Others will not work well with your Harley Davidson. However, I was able to make a list of the top five speakers. Here are the detailed reviews.
---
– Best Speakers for Harley Davidson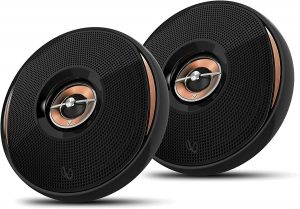 People prefer to feel the breeze on their Harley Davidson and have a fun ride. The weather can play tricks on you. Standard speakers are not designed to withstand wind, rain, and the heat of the sun.
Infinity strives to reduce damage to the speakers and make them resistant to any influences. They freeze, bake and shake them several times, making sure they are as reliable as possible. These devices are among the most durable available.
Glass fiber is used to make the speakers, which helps reduce their weight. It is important to choose lightweight motorcycle speakers. They are easier to mount and can be damaged less easily. Infinity speakers also have a larger area of the cone. This design produces high low-frequency output.
The dome tweeters are edge-driven and feature textile domes that produce smooth high-frequency sound. Speakers don't consume much energy. The device's 2.5-ohm output architecture features low-impedance voice coils, which increase its power multiple times.
You can rotate the dynamic to 270° after installation. You can then choose the angle that provides the best output in a particular situation. There is also a control for the tweeter. The button can be used to adjust the high-frequency setting.
The Key Features
Size – 6.5 Inch
Power – 450W
Sensitivity – 95dB
Frequency Response – 45-25,000Hz
Resilient to all weather conditions
Made from the lightweight material
Smooth high- and low-frequency sounds
It doesn't take much energy
Negatives:
Material that is not eco-friendly
You may want to read:
Best Portable Speakers With Aux Input
---
– Easy-to-Install Harley Davidson Speakers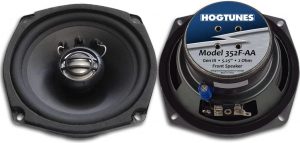 Because Harley Davidson speakers require sophisticated tools for installation, some people decide to stop buying them. The Hogtunes company is known for its simple, but reliable constructions. The included equipment makes it easy to set up the front speakers in no time. The wire cutting and additional tools are not required.
Hogtunes products do not use low-quality fabrics or technologies. The tweeter is made from titanium which produces a rich sound with no noise at high frequencies. The impedance of the device is 2 ohms. This model has a higher bass response than other Hogtunes models.
This design allows you to ride your Harley Davidson at very high speeds without losing the sound quality. They can withstand wind and exhaust noise. They can also be turned on in the rain without worrying about possible damage.
The speakers are lightweight and small, weighing in at 4 pounds. Installation is made easier by the 5.25-inch diameter. Simply take out the old speakers and install the road glide speakers upgrade. Enjoy the rich and clear sound.
The Key Features
Size – 5.25 Inch
Power – 100W
Sensitivity – 92dB
Frequency Response – 55-25,000Hz
You are protected from strong winds and rain
For perfect high sound, use a titanium tweeter
Installation is simple
Higher bass response in Gen II than in Gen II
Negatives:
Music volume is lower in small models than in other models.
---
– Universal & Full-Range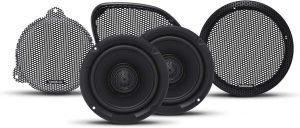 These full-range speakers were made for Harley Davidson models. These speakers will perfectly fit Street Glide and Road Glide motorcycles. It takes only a few minutes to set up the device. The speakers can be easily replaced by factory speakers, so no additional tools are needed.
Everything you need to install them is included in the kit. The kit includes mounting hardware, speaker connectors, and grille assemblies for Tour-Pak and fairing locations. The speakers can be used with many Harley Davidson models.
The maximum power output is 150 watts, which is the highest rate on the market. Rockford Fosgate products are durable and reliable because they have been tested before being sent to customers. These speakers are able to withstand any weather. They are also resistant to corrosion, vibrations, temperature, and UV rays.
A good tweeter can make the sound more powerful. This model features a dome-tweeter with an integrated phase plug to provide clean high frequencies.
You will also get a smooth sound at high speeds. You will get a 2-year warranty on your product.
The Key Features
Size – 6.5 Inch
Power – 150W
Sensitivity – 91dB
Frequency Response – 56-20,000Hz
Powerful
Resistant to many factors
It works well at high speeds
2-year warranty
Negatives:
---
– Bluetooth Speakers With FM Radio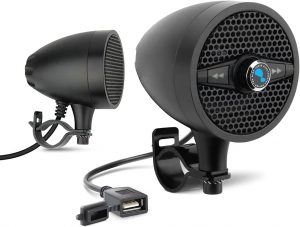 This Lexin device is a great option if you are looking to replace speakers that have lost their volume. It has a clarity of 125 Hz. This design produces the most natural sound possible, both at high and low frequencies. These speakers allow you to change the song on your phone at any moment.
Built-in Bluetooth stereo, USB, and FM radio tuners with 50-watt power amplifiers are all available in the construction. You can wirelessly stream your music from any Bluetooth-enabled device. You can also use a USB audio source. You can easily install the speakers and regulate them in the same way.
The perfect match for Harley Davidson motorcycles is a metallic basement with a polished chrome treatment. The speakers are resistant to water and high or low temperatures. The material is also resistant to dust so it will last a long time and not need to be replaced. It is recommended to use it at 80 mph.
Although the installation is quick and easy, you will need to use a few connectors. It is very easy to use. They are small and lightweight, but they can be powerful. They are compatible with most Harley Davidson models.
The Key Features
Size – 1.25 Inch
Power – 100W
Sensitivity – 78dB
Frequency Response – 80-16,000Hz
Bluetooth – Yes.
Positives:
Give your music a powerful and smooth sound
Bluetooth stereo, FM, or USB radio tuner
Basement with metallic elements
All weather conditions are not an issue
Negatives:
High speeds can make it worse
Installation is more difficult than with other models
---
– Best Harley Speaker Upgrade With Bluetooth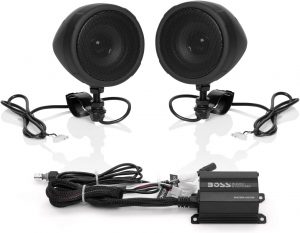 Two 3-inch chrome speakers are included in the kit. They have a standard design for motorcycles. These speakers are compatible with handlebars of 0.75 to 1.25 inches in diameter. The speakers work well with Harley Davidson machines but not all models. Professional installation is required for the best functionality.
BOSS Audio Systems uses the most recent techniques to protect speakers against weather conditions such as rain, snow, and hot sun. Their chrome material has a huge impact. A tweeter also has a protective layer. It is also equipped with Bluetooth technology. You can connect it to your smartphone, tablet, or another device.
An input of 3mm is available for smartphones and MP3 players. It's located on the side of the amp, making it easy to turn on the speakers and use them. The inline volume control is also available. It can be installed wherever you want to control the sound at any given moment.
The Key Features
Size – 3 Inches
Power – 600W
Sensitivity – 85dB
Frequency Response – 80-15,000Hz
Bluetooth – Yes.
Positives:
Speakers are protected from weather impacts with the latest technology
Bluetooth is available
Wired remote volume control
Negatives:
Not compatible with all Harley Davidson models
---
The Best Speakers For Harley Davidson
Some speakers may not be suitable for motorcycles. Let's find out what features are required to ensure a perfect fit.
How do you choose the best speakers for Harley Davidson?
Three important features are worth paying attention to.
Protection from Weather Conditions
When choosing speakers for motorcycles, make sure they are strong enough to withstand various conditions. You should choose an item with a rubber or metal basement. It is important that the manufacturer mentions whether it is waterproof.
Tweeter Characteristics
The tweeter is responsible to produce the high and low-frequency outputs. It should also be protected from dust and water. For motorcycle models, a 2-3 ohm impedance works best. For high-quality sound, a tweeter must be between 2.5-3 mm in size. The controls will not be an issue.
Connect to Devices
It is not always easy to connect wires. Many speakers have Bluetooth and USB inputs so you can turn the music on from your phone. It's also easier to install speakers with this design.
How do I install speakers?
All of the Harley Davidson speaker models that I have described can be used wirelessly. This means that you only need two steps to install your devices. In most cases, the entire kit includes everything you need.
Step 1: Mount the speakers
For the best sound, people usually place the speakers on the handlebars. It protects the amplifier against unwanted vibrations that could damage it. The clamps are required for speaker mounting. Simply place the speakers on the handlebars, and then roll up the clamps.
Step 2: Connect to a power source
Additional amplifier installation is required for models that aren't wireless. This step is not necessary. Once you have mounted your speakers, connect them to the batteries. This connector must be protected from heat. You can then test your speakers using your smartphone and Bluetooth.
---
Faqs about Harley Davidson Speakers
I've created a FAQ section to avoid damaging the speakers. You can ask your question in the comments if you don't find the answer to your question.
What are the best speakers for a motorcycle?
Below are the top five speakers for motorcycles. They come with all features. The best motorcycle speakers should be weather-resistant and powerful. Volume controls are also necessary. It is possible to adjust the volume on the road.
How Big Are the Speakers at a Harley Fairing
Small speakers will work well with Harley Davidson motorcycles – speakers of 5-7 inches will work. You should, however, consider the speaker's size depending on the model.
What Other Features Should Speakers have?
Bluetooth and USB inputs will make the speakers ideal for motorcycles. A tweeter control is also an option. You can adjust the output of high and low-frequency frequencies.
With powerful speakers, you can amaze everyone on the road
Motorcycle riding will be much more enjoyable with the right speakers. It's easy to find the right speakers nowadays, as many models are available with every feature you require. These are high-quality products that you can choose from the best street glide speaker upgrade. Infinity speakers are a universal product for Harley Davidson.
Which Harley Davidson model are you using? What are you looking for in motorcycle speakers? Are there any questions you might have about the speakers? You can leave comments and questions below.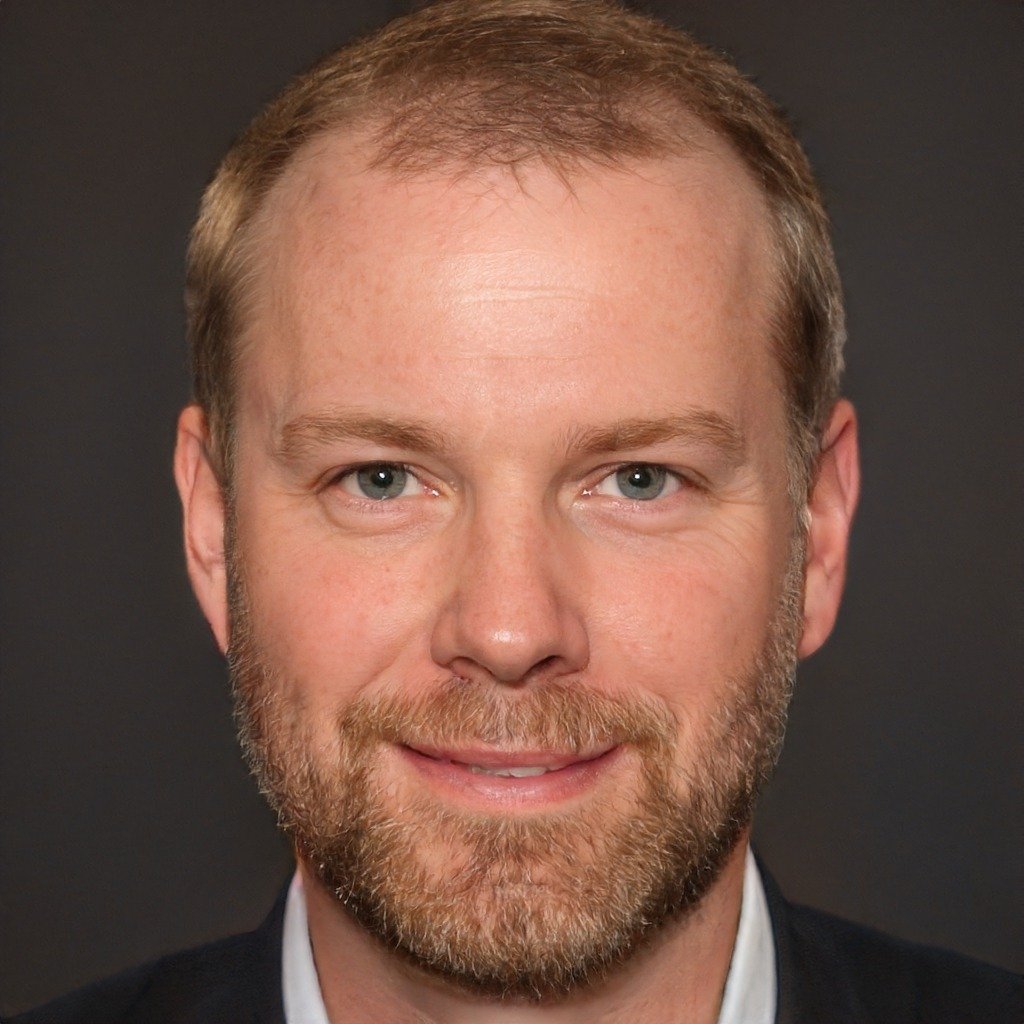 Hey there mobile audio lovers! My name is Darlene R, founder and chief editor at headphonesfans.com. Ask any mobile audio fanatic, installer, or company rep what makes a good car speaker, sub or amp, or, better yet, why he or she prefers a certain brand over another, and be prepared to endure a litany of opinions, viewpoints, and passion-fueled perspectives. To be honest, mobile audio shopping can be a daunting task without a guide, so I've assembled what I feel are the best products to consider to make things easier for you. Welcome headphonesfans.com!